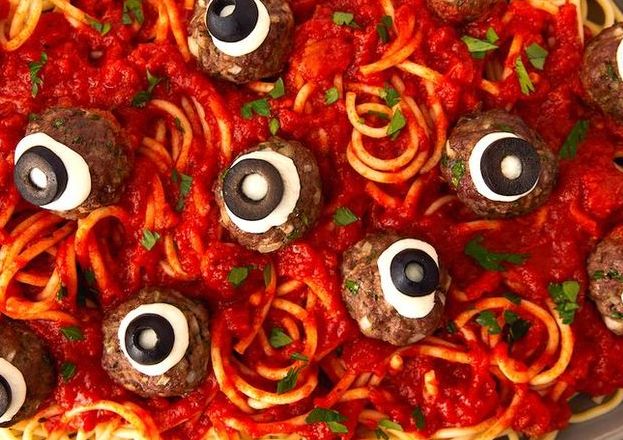 It may seem like we have gotten more tricks than treats this year due to the pandemic.
Although the pandemic has upended our lives, you can still have fun this Halloween. Here are ways you can safely celebrate the holiday this year with your family and friends.
1. Host a spooky dinner party. Some food suggestions are listed below with links to recipes.
o Eyeball Pasta
o Mummy Meatballs
o Halloweenies
o Frito Pie
o Jack-o-Lantern Stuffed Peppers
o Candy Corn on the Cob
2. Make Halloween treats. Some suggestions are listed below with links to recipes:
o Caramel-Stuffed Chocolate Skull Cupcakes
o White Chocolate Covered Strawberry Ghosts
o Ghost Brownies
o Spooky Monster Halloween Cake Balls
o Chocolate Peanut Butter Spider Cookies
o Monster Marshmallow Crispy Treats
o Reese's Peanut Butter Pumpkin Spider Treats
o Halloween Chocolate Boo Bark
o Spiderweb Cake
3. Stream Halloween movies on Netflix, Hulu, or Disney Plus. Some suggestions are listed below:
o Get Out (2017)
o Veronica (2017)
o Paranormal Activity (2009)
o Casper (1995)
o Double, Double, Toil and Trouble (1993)
o Ghostbusters (1984)
o Halloween (1978)
o Carrie (1976)
4. Read horror fiction. Some suggestions are listed below:
o Frankenstein by Mary Shelley
o Beloved by Toni Morrison
o The Legend of Sleepy Hollow by Washington Irving
o Dracula by Bram Stoker
o Rosemary's Baby by Ira Levin
o Coraline by Neiil Gaiman
o The Haunting of Hill House by Shirley Jackson
o Aura by Carlos Fuentes
5. Create a Halloween playlist. Some suggestions are listed below:
o "Monster Mash" by Bobby Pickett
o "Ghostbusters" by Ray Parker Jr.
o "Bury a Friend" by Billie Eilish
o "Feed My Frankenstein" by Alice Cooper
o "The Cure" by Lullaby
o "She Wolf" by Shakira
o "Black Magic Woman" by Santana
o "Howlin' for You" by the Black Keys
6. Carve and decorate pumpkins.
7. Drive or take a walk outside. Look at the changing leaves and Halloween decorations.
8. Host a virtual costume party over Zoom or Google Hangouts. You could invite a face painter to demonstrate how to do live makeup, dance to Halloween music, and give prizes to the winners of a costume contest.
9. Go on a Halloween scavenger hunt.
10. Do Halloween arts and crafts projects.
As you can see, COVID-19 doesn't have to stop your fun. This has been a tough year for all of us, and Halloween is the perfect chance to relax with your family and friends. Let us know how you choose to celebrate the holiday and send your pictures to [email protected] Have a safe and happy Halloween!