Chess Has Never Been This Cool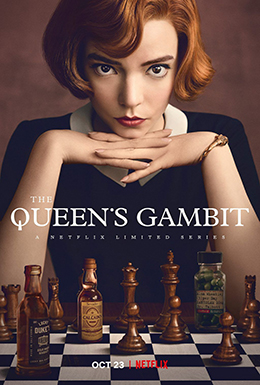 The 2020 hit Netflix series "The Queen's Gambit" has been trialed and tested, being that it wasn't too certain a show about chess would capture the attention of a vast audience. As a turn of events and expectations, it has reached the top hits on Netflix, critics' reviews are thriving, and it's up for several award nominations.
"My sister suggested the show to me, and I just started it because I had nothing else to watch. It's the best show I have seen in a while. Honestly, if she told me it was about chess from the start, I probably would have written it off. I loved it so much because it's about more than the game of chess, and has so many other stories to it," biology major, DeJana Luma said.
This series is about an orphan prodigy who worked her way to being one of the greatest chess players in the world. She travels the country and the globe to play in top tournaments, including one against the best Grandmaster.
Although that's the overall gist of the show, the reason so many people – including our students here at Brookdale – are interested is for what's between the lines. What's special about it, one may ask.
"She's a female chess champion; what's better than that?" Luma said.
"Being that this was set in the 1960's, it shows a lot about the truths of being a housewife, wife, orphan and how it wasn't a happy lifestyle for all during these times. Yes, its fictional, but it shows how far we have come in society," mathematics major Jennifer Meyers said.
A lot of feedback has come back about how unhappy both the chess prodigy and her "mother" were with their lives. The reality and the harsh truth – a successful melodrama.
"As an older student, being that I am in my fifties, I was born in the sixties. It's a little depressing when it comes to drug use, but unfortunately it probably is true to some people. Those pills that kept showing up in the show reminded me of the 'mother's little helpers' that were used for depression," student Sharon Fletcher said.
Fletcher continued, "Of course as a chess lover, I enjoyed how intense and thrilling the matches were displayed as. Let me tell you, it's not like that in real life. Even my children who hate chess, couldn't keep away. Passion can make anything interesting."
The producer of this series, Allan Scott, always had high hopes for the show unlike many of the various directors and people that were at some point involved with it. Those who doubted its success just did not understand how one would be drawn to the show.
The actions of word of mouth, social media, and award-winning actors has its influence on the success of quite anything film related – but the show speaks for itself.
Rest assure, our Brookdale students and other viewers are infatuated in the drugs, drama, reality, and rather melodramatic take on a prodigy's life, even when it's a chess player.