Education Club Thrives Despite Pandemic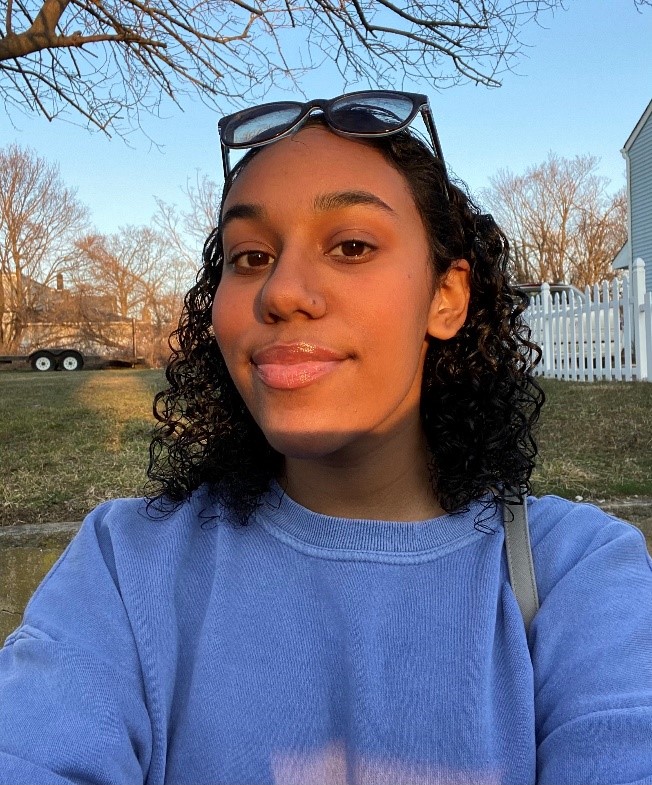 Co-Presidents McKenna Matthews (Above) and Isabel Peña (Below) have been working diligently to plan new and exciting things for the BCC Education Club.
It is no secret that since last March, the ongoing COVID-19 pandemic has made organizing and taking part in community and social gatherings much more difficult for everyone. However, one club at Brookdale Community College is actively seeking ways to thrive and make the most out of these very uncertain times to best serve its student-members. The Education Club at BCC has not only begun to meet once again over Zoom, but they are continuing to shape their students into the educators of tomorrow through new opportunities and outreaches in 2021.
Feb. 18 was the Education Club's first meeting of the new year, so it was quite fitting that it began with an icebreaker to help attendees introduce themselves, get to know each other and express their goals for the spring semester, the year as a whole, and for the future. The diversity and friendliness of this club truly shined within the conversations that were sparked between members and the different experiences and aspirations that they openly shared in order to support each other.
The meeting proceeded with discussions about the future of the Education Club. The Education Club has plans to continue to meet twice a month over Zoom, from noon to 1 p.m. until May 6. Co-Presidents McKenna Matthews, who is an early childhood education major, and Isabel Pena, who is a Spanish education major, have big plans for all of their upcoming meetings, including a "tips & tricks" presentation on how to be the best teacher, which will be given by BCC Adjunct Educator and temporary education club adviser, Cristy Devito, on April 8.
That, however, is not all that the Co-Presidents have planned for 2021; Matthews and Pena have also scheduled a meeting that will be in partnership with the BCC International Club and will feature an International Ambassador from Rowan University who will be discussing study-abroad opportunities for students on March 25. Additionally, on April 22, Stephanie Fitzsimmons, who is the BCC financial aid director, will be joining the Education Club to discuss financial aid opportunities and transfer information with the club members.
Next on the agenda was going over some Education Club constitution changes. Perhaps the biggest modification that had to be made was the official name change of the club from S.A.F.E. (Student Association of Future Educators) to the Education Club. Additionally, meetings were changed from occurring once a month to twice a month, and executive committee positions went from being referred to as president, vice-president, secretary, etc. to being referred to as officers in an attempt to promote equality amongst student leaders.
The most exciting portion of the Feb. 18 meeting was when Dr. Ave Latte, who is one of the club advisors, introduced a hiring opportunity for the members called Project Extend Program Aides. Latte explained that the Ocean Township School District is looking for qualified individuals who are interested in working with young students in a before/aftercare program. This program is a great way for members to get some experience, build their portfolios, and give back to the community surrounding BCC.
The last portion of the meeting included miscellaneous discussion about the best ways to communicate with one another, how to effectively get club information out to potential new members, and possibly even starting a club newsletter or blog. It is clear that the club members have no intentions of remaining stagnant this year—they are looking to grow and adapt with new events, opportunities and members.
According to Co-President McKenna Matthews, the club is really about how to help yourself to become an educator in the future. It is obvious from the Feb. 18 meeting and the plans for future meetings that the club is an outstanding way for future teachers, instructional assistants, and educators to better themselves in a safe, friendly, and supportive environment and to experience community with other students who share the same passion for education.
The true purpose of the club is succinctly embodied in what temporary adviser Devito stated at the Feb. 18 meeting, "The best teachers are life-long learners." The advisers and the student-members of this club seek to educate themselves and each other in order to prepare themselves and better educate the next generations.
Both members and advisers value highly what they gain from being a part of it and cite various reasons for joining. Many of the students stated that Latte and her classes were the driving forces that pushed them into joining.
Freshman and undecided major, Alex Mock, discussed the club's welcome and kind environment as reasons for being involved.
Professor Arthur Marshall, Education Club Adviser, encourages students to get involved, specifically with the Education Club, by comparing the college experience to an octopus. He stated, "…being in the classroom in your major and focusing on that is just one of the tentacles. The Education Club opens so many more opportunities. It's just all the other tentacles on that octopus that are missing if you just come to school and stay in the classroom and don't do anything else."
The BCC Education Club, first known as S.A.F.E., was formed in 2003 by Jane McBride, now retired, then who served as an administrator in the Career Leadership department, along with Dr. Mary Ellen Hurley, who was the Professor of Education. The club's main focus was bringing support to children with autism. Since that time, S.A.F.E. grew into the Education Club by combining with an Early Childhood Parent Affiliation Club through the now-defunct Early Learning Center at Brookdale.
Upon Dr. Hurley's unexpected passing in 2010, Professor Arthur Marshall and Dr. Ave Latte have taken over as advisers of the club with help from Adjunct Educator, Cristy Devito, all of whom bring unique experiences, positive attitudes, and helpful mindsets to the Education Club and the student-members.
For more information about how to join the Education Club at Brookdale Community College, email Co-President McKenna Matthews at [email protected] or Co-President Isabel Pena at [email protected] To see when future meetings are being held or to get updates, check out their Instagram page @educationclub.bcc. Zoom meetings open at 11:45 a.m. with an open chat and then proceed with club business, presentations, and discussions at noon.