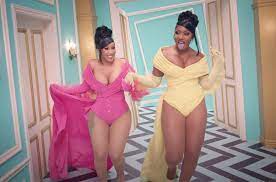 Since the release of Cardi B and Megan Thee Stallion's song "WAP" there was already a lot of controversy regarding its explicit lyrics. After the first televised performance of their duet, fans and critics have flooded social media and other outlets.
This single has been a high charting song since its debut in August, standing at No. 1 on the Billboards Hot 100 hits, and spread through popular social media on TikTok. According to USA today these women are "two of the most unique and talented artists working in music today."
The performance was kicked off by Cardi B's choregraphed pole dancing segment, joined by several backup dancers dancing on the set of what was made to appear as a giant-sized bed. What would be considered R-rated choreography followed with the two artists on the floor, groping one another.
"I personally don't mind the song when it comes to dancing and singing along for fun, but the performance was definitely something uncalled for. This is something my generation views as being able to express oneself and their image – but in my eyes there is a time and place especially at a very publicized event such as the Grammy's with a wide audience," 20-year-old DeJana Luma said.
Their supporters being fans, other musicians, family, friends, etc. praised their performance afterwards on several platforms. Unfortunately, it faced a lot of backlash for the high standard T.V. program of CBS as well as Cardi B and Megan Thee Stallion's reputations.
There have been such performances at larger events that have been deemed provocative and or inappropriate for the stage such as the Superbowl with Shakira and J-LO. But these two had it a little rougher than others.
The host, Trevor Noah, even had prepared the audience prior to the performance advising, "If you have small children in the room, just tell them it's a song about giving a cat a bath." This has been thrown around in the sense that if he had to warn the audience, why would they even approve the number.
"As these two women are special to the music industry, their outfits and song itself was to be expected – and I am all for it. But, regarding the actual performance, yeah, I thought it was too much. Unfortunately, it shows how little respect they have for those watching and puts more of a bad taste in people's mouths even more than those who initially don't agree with their stylistic choices," film major Kyle Finnegan said.
Many critics explain that artists have every right to express themselves and empower themselves how they choose fit, it's the way they are broadcasted and to whom is what matters the most. Not only are they responsible for representing themselves, but those who vouch for them. CBS being the channel the Grammy's was sponsored on, suffers the consequence of any bad review.
Pleasing everyone in an audience is unrealistic, but it's a part of these larger industries. For musicians such as Cardi B and Megan Thee Stallion, especially still being quite new to the public eye over the recent years, this is not the first time their actions have been questioned.