Five Nights at Freddy's: Security Breach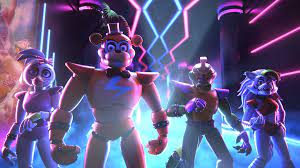 "Five Nights at Freddy's" is a series originally created by independent game developer Scott Cawthon, in which the entire aspect of the game has you playing the role of a night shift security guard in a pizzeria designed for children.
In this Chuck E. Cheese rip-off pizza joint that realized having a rat as your mascot isn't a great fit for a place that serves food, the robots that do all the singing here also want to kill you for whatever reason–I honestly don't know why. Now, I refuse to delve into the lore of these games, because sweet rollerblading Christ this is supposed to be an article, not a 500 page novel with 2-point font. Just do yourself the favor and don't bother looking it up; it's basically robots that are angry because children were killed and stuffed into the suits by some guy named William.
The newest game in the series steps away from the formula. Previously, moving around wasn't an option. Now, you can explore an entire arcade mini-mall based around him and 70s glam rock aesthetic.
The story of this game goes as follows: A kid is locked up in a Freddy Fazbear's pizza joint. And that's about all I got from it. You play as the kid, and for once, not every robot is trying to kill you, only most of them. Also, there's this weird rabbit character named Vanny, along with a security guard named Vanessa. If you can't put two and two together here, there is nothing I can do to help you.
The story is really lacking, and I'm putting that nicely. However, if I'm not, what I mean is that the story is non-existent and confusing. Unless you're indoctrinated within the "Five Nights" lore, then you're gonna be left confused and without much to really grasp onto, aside from the fact that everything pretty much wants to kill you.
The gameplay is damn close to any other horror-themed gameplay. Crawl around, run away, or hide. There are stamina upgrades hidden around the facility, and when you get all of those you can just run past all your problems.
After you get the laser gun, forget it–the robots don't stand a chance. I could just shoot them in the face, then zip away. The part with the robot weeping angels just wasn't that scary. It was, however, unbelievably frustrating, as their mechanics are very bugged and weird.
I'm just gonna level with you here when I say that I didn't enjoy this game. Not in the "it's too scary" way, but more in the "at best the game had a slightly uncomfortable atmosphere, making me jump half a dozen times" kind of way. It really lacked the horror aspect, and for a "horror" game that's quite damning. What made me jump was not the main robots, but the little flashlight robots who skirt about the facility. The only reason they made me jump is because they think I'm outside the range they can catch me, and they either do or they don't. This brings me to my main gripe with the game: On a technical level, this game is a complete mess.
Glitches and bugs galore can be found within the game, and I mean I didn't go one section without encountering some minor bug. Firstly, the most frequent offender would be the flashlight robots. With their pathing being odd, it doesn't help that they would so often let me skirt by them, often close enough to smell the oil from their wheels. Other times I'm a solid 8 feet away from them, crouching and enshrouded in complete darkness, and they're already rolling away, just to grab me because I think I'm safe and can keep going.
I got soft-locked twice, where I lost about 30 minutes of progress through the game. The game was stuttering about every 30 seconds where it'd just suddenly freeze up on me for a half of a second. Finally, the biggest offender is the sheer size of this game. It's 80 gigabytes, 80 freaking gigs! That's larger than a huge portion of triple-A games nowadays.
Would I recommend it? Nope. This game frustrated me 90 percent of the time. While the only positive emotion I got is that it made me chuckle a few times. I can't even truly say it was a functional experience because of how many times the game glitched out on me.
Even if the game got a nip and tuck and was fixed 100 percent, it still wouldn't be much fun. It didn't scare me, and the story was almost non-existent. I read almost every file I picked up, and explored the whole facility from top to bottom, not that I could find my way around it. It was hard to navigate, and the map was about as useful as closing my eyes and holding down random keys.
There was nothing of substance here that I can think of. On top of it all, you don't even spend five nights in the facility, which is a blessing considering I don't think I could do two, let alone five.