Students Sign-Up at Fall Involvement Fair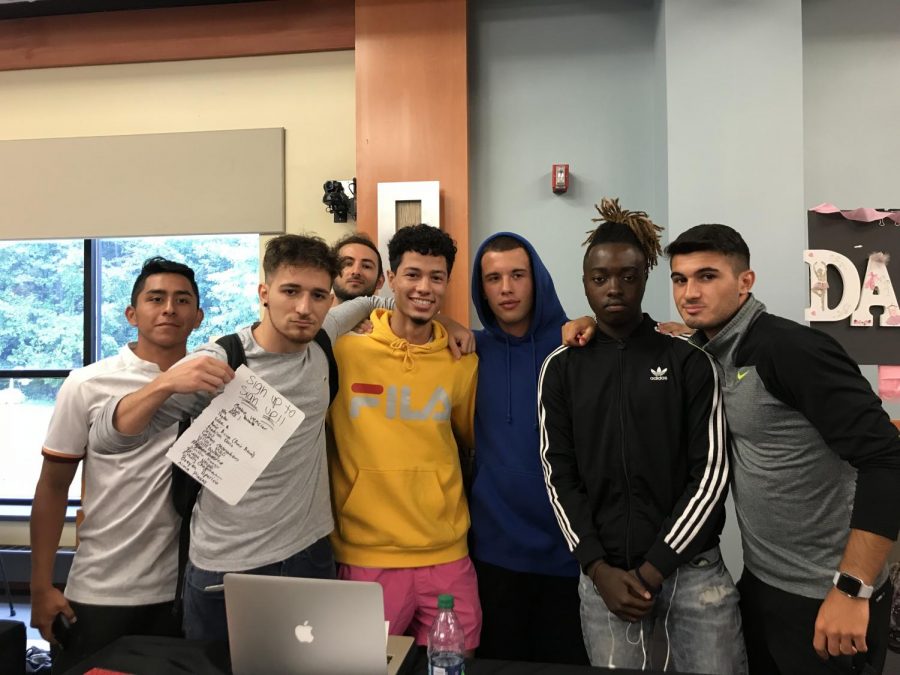 On Thursday, Sept. 13, Brookdale held its Student Involvement Fair for the fall semester in the Navesink Rooms. This year, the theme was "Discover Your Path."
The involvement fair is an event where students have the opportunity to find out about clubs and organizations on campus. Each club and organization typically has a table, giving general information about their club, like what they do, meeting dates, and upcoming events which they will host for the year.
Among these clubs and organizations was Brookdale's chapter of the Phi Theta Kappa Honors Society, with an elaborate Wizard of Oz themed table. Board members even dressed up as characters from the movie.
The History and Political Science Club paired their table with politically charged cardboard cut-outs of President Donald Trump and former Secretary of State Hillary Clinton, discussing their goals for the club: political discourse and civic engagement.
The LGBTQ+ Club had a tri-fold board that explained different genders and sexualities. The club offered stickers with the respective colors for each different gender and sexuality, as well as small pin-on buttons that stated one's preferred pronouns.
The Black Student Union is also now active thanks to the efforts of new president, Janai Freer and others. Freer said the group is planning many discussion panels and community outreach.
As always, there was a DJ, music, and free food. Playa Bowls, Dip-and-Dots, and popcorn was given to students for free.
Perhaps the most unexpected table at the event was a table with no club whatsoever. The table did not have a tri-fold, sign, candy or a designated leader. Instead, friends from Brookdale's soccer team simply found an empty table well-into the event, and claimed it as their own.
However, the table did have the sign-up sheet: a piece of loose leaf paper with the words, "Sign Up to Sign Up," scrawled across the top in black Sharpie. At first glance, this club seemed to garner the most attention and sign-ups from students.
Together, the boys called students over, encouraging them to sign up. When asked about their motivations for such an arbitrary, though harmless action, they said it was just for fun. Some suggested that people were signing up as a pledge to "be a good student."
"We did this just to have a good time and make people laugh," said Erick Caban, a 20-year-old business management major.
"We did it to make their Brookdale experience more enjoyable," said Sergio Pereira, a 19-year-old criminal justice major.
Their informal "Sign Up to Sign Up" Club, whose existence was limited to the time period of the Student Involvement Fair, did just that. Students laughed because of the sheer humor of signing up for the sake of doing so.
"We're doing this because Brookdale isn't only about learning. There's also ways to interact and have fun," said Francesco Campo, a 23-year-old architecture major.