Coronavirus updates from around the world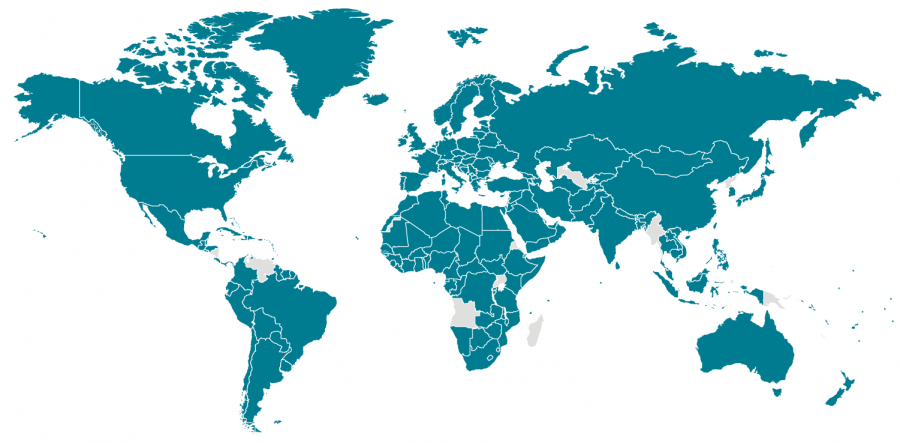 Staff Writers
April 6, 2020
Brazil: Brazil is now reporting that COVID 19 has reached its indigenous population. According to Live Science, a 20-year-old woman from the Kokoma Tribe, a health agent who was working with a medical doctor Matheus Feitosa. Feitosa tested positive last week. There were 12 patients who came in contact with Dr. Feitosa from the Ticuna tribe. Both tribes are located in the northwestern part of Brazil near the Colombian border. Doctors are concerned that their lungs may be weakened due to the Amazonian fires. Brazil currently has 7,910 confirmed cases and 299 deaths across the country. The unidentified woman reports her symptoms as a dry cough and a loss of smell and taste three days after exposure. She is currently in isolation with her seven family members. The 12 patients are also being monitored for symptoms.
China: China, once the most infected country in the world is now on what many are calling the decline. Due to this, authorities are slowly but surely deescalating containment reassures, and some businesses are reopening. As of Wednesday, there were 80,793 cases recorded and 62,793 recovered. China is also being called into question about the accuracy of their data, and how their potential misinformation could be affecting other countries.
Ecuador: According to the L.A. Times The port city Guayaquil consisting of 2.8 million is the core city for COVID-19. Ecuador has 2,700 infections and 93 deaths-60 of them are located in Guayaquil and in the vicinity. Mayor Cynthia Viteri has tested positive for the virus. Many corpses have been wrapped in plastic and left in the street. Between 500 and 1,000 patients are showing up per day with respiratory complaints at Los Ceibos, the largest hospital in the city.
Germany: According to CNBC, Germany has recorded a high number of cases but a low mortality rate. The low mortality rate in Germany is at just over 1%. Germany has recorded 84,794 confirmed cases but has witnessed just 1,107 deaths, according to data from John Hopkins University. Karl Lauterbach, a professor of health economics and epidemiology at the University of Cologne, and a politician in the Social Democratic Party (SDP) of Germany told CNBC that "I think so far we've been lucky because we were hit by the wave of new infections later than many other European countries, for example, Italy, Spain, and France," he told CNBC. "Secondly, the first people that got infected in Germany tended to be younger than the average of the population … so we were hit later and with younger patients initially." A third factor that helped Germany was a slow increase in the number of infections, allowing those patients to be treated at the country's top medical institutions.
Ireland: According to BBC News, the Republic of Ireland has seen a decrease in their daily growth rate of infections. The growth rate is down to 15 percent, whereas it was 33 percent when the outbreak began. As of March 31, there are 2,910 confirmed cases and 54 deaths. As of March 12, schools, colleges, and public facilities are closed and according to New York Daily News, on March 27 Prime Minister Leo Varadkar announced a stay-at-home order until at least Easter. Citizens may only leave home if they are an essential worker, buying groceries, caring for someone who is ill or exercising.
Italy: Italy is possibly showing a move away from the exponential growth of COVID-19 deaths. The Guardian reported that April 1 showed the lowest number of deaths from the virus in over a week, making some hope that a plateau or downturn is coming soon. This is reported concurrently as the WSJ writes that Italy is struggling to report an accurate death count due to an overloading of the medical system there. An estimated 13,155 people have died from the virus according to Worldometer. Of the 30,002 cases that have been closed (no longer actively in care), 44 percent ended in death.
South Korea: A couple of weeks ago, South Korea was the third country with the highest number of COVID-19 cases. Now, it stands as the 14th nation on the Worldometer. There has been a slight decrease in cases of infected citizens, according to NPR. Healthcare workers worldwide recommend South Korea's method of testing everyone displaying even the slightest symptoms. Citizens who may have been exposed to the virus are ordered to quarantine even if they seem healthy. Those who begin to show symptoms in quarantine are then isolated additionally. Many public establishments such as restaurants and malls remain open.
Spain: The Health Ministry recorded 950 new deaths in the last 24 hours in Spain. This would increase their total to now 10,003, joining Italy as the only two countries with five-figure death totals. According to CNN, as death figures rise, the rate of new infections in Spain has fallen to its lowest rate since the start of the crisis. There was also a smaller increase in new patients admitted into intensive care units, with 220 admissions in the past day. It seems that their strict measures of quarantine are very slowly working in their favor.
Sweden: Sweden is not on lockdown yet. According to The Economist, native Swedes are allowed to roam around the country as they please. Everything in Sweden is open, but of the countries surrounding them are in a complete lockdown. Still, King Carl Gustaf and his wife are self-isolating. Recently, gatherings of over 50 people were banned.