Coronavirus updates from around the country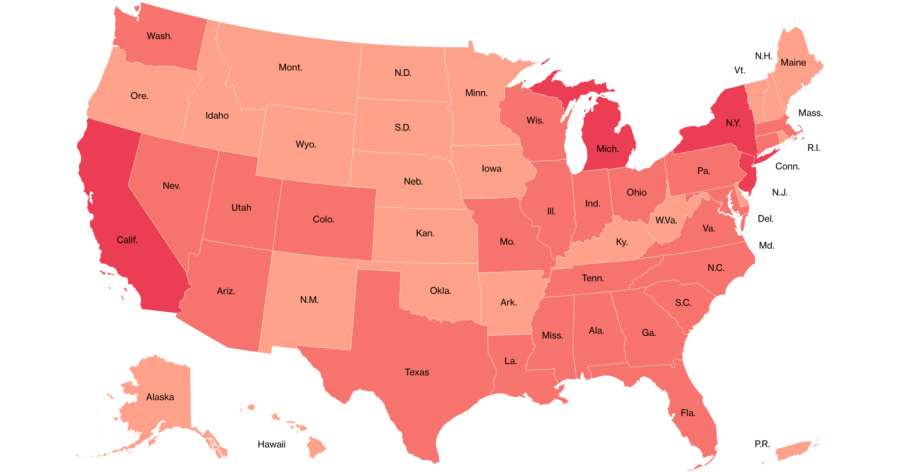 Staff Writers
April 16, 2020
California: According to ABC 7 News, a doctor at Stanford's Hoover Institute believes Californians may have already been exposed to the virus much earlier than originally thought. The institute released a theory that the exposure to what might have been COVID-19 last year has created a "herd immunity" for citizens of California. Dr. Alok Patel was asked about this herd immunity theory and had this to say, "we would need about 50% to 60% of the population to be immune to it to achieve that herd immunity so it couldn't spread like wildfire." Dr. Patel is not entirely sure if this theory is correct, but he is not ruling it out.
Colorado: According to the Denver Post, Colorado has been showing signs of the COVID-19 virus slowing down. According to The Colorado Department of Health and Environment In Colorado, there are confirmed 5,172 COVID-19 cases with 150 deaths. "Around 17,000 to 18,000 Colorado residents are believed to be infected," state health director Jill Hunsaker Ryan said. 944 people were hospitalized, while 41 outbreaks at non-hospital health care facilities. State officials say early social distancing have been working by eliminating 1,200 COVID-19 cases. "The current slowdown doesn't yet reflect the impact of the statewide stay-at-home order, which could slow the spread of cases further," state epidemiologist Rachel Herlihy said.
Connecticut: As of April 6, NBC Connecticut reported that Hartford Healthcare and MIT are projecting a peak of the virus in Connecticut by late April or early May and that now there are over 6,900 cases of the virus and 206 deaths. Protests in New Haven have been ongoing, calling for the release of incarcerated people and people detained by ICE in Connecticut. Protestors have resorted to drive-by protests, where they remain in cars with signs taped to the outside to avoid personal contact.
Delaware: Delaware has at least 928 confirmed cases of coronavirus, state officials said April 7. The state is still preparing for the number of cases to rise. Alternative care sites in gyms have been set up to help lower the stress on hospitals. A blood bank in Delmarva started collecting plasma from recovered coronavirus patients. There is hope that antibodies in the plasma will help severely ill patients. If the plan is successful, the blood bank in Newark is prepared to expand the process to help patients nationwide.
Florida: According to Orlando Sentinel, as of April 10, Florida reports 17,531 positive COVID-19 cases and 390 COVID-19-related deaths. South Florida is considered the "epicenter" of Florida's outbreak, where confirmed cases amass to 10,152. The University of Orlando extended the shutdown of their theme parks and hotels through May 31. The police of Daytona Beach deployed talking drones to enforce social distance regulations. State regulations do not require people to cover their faces in public, but it is becoming a more common requirement from city to city.
Illinois: Officials on April 6 announced 1,006 more cases of the coronavirus and 33 additional deaths, bringing the number of known cases statewide to 12,262 and the death toll to 307 since the outbreak began. As of April 6, 3,800 patients with the virus were being hospitalized across the state, according to the Illinois Department of Public Health. Of those, 1,166 were in intensive care, and 821 were on ventilators. Illinois has had problems with a lack of resources for the infected, especially in Chicago, according to the Chicago Tribune.
Indiana: As of April 10, Indiana has 6,907 cases of COVID-19 along with 300 deaths related to the illness. There have currently been over 35,000 tests administered in the state as well. 90 of the 92 counties have reported cases. The governor also issued guidance before the Easter holiday. "The purpose of this guidance is not to restrict religious liberty, but to save lives during these extraordinary times. I look forward to the day where we can once again worship side-by-side without the threat of spreading coronavirus," he said.
Kansas: According to The Topeka Capital-Journal, governor Laura Kelly, Kansas is facing a shortage of the necessary medical supplies for the treatment of COVID-19. As of April 6, there are 845 reported cases of coronavirus and 25 deaths resulting from the coronavirus. Secretary of the Kansas Department of Health and Environment Lee Norman advised citizens to avoid large gatherings on Easter. Lee also stated that three inmates at the Lansing Correctional Facility have tested positive for the virus, as well as five employees. It sits at number 38 in the U.S list of states with the most cases of the virus.
Kentucky: According to WKYT, the CBS affiliate of Kentucky, Governor Andy Beshear announced April 10 that there are now 1,693 confirmed cases of the virus in the state. He also announced that the death toll rose from 79 on Thursday to 90 on Friday. The majority of the new cases came from long-term care facilities across the state. Beshear ordered that anyone involved in mass gatherings will have to self-quarantine for 14 days.
Louisiana: WDBU reports that the first confirmed case for the state was on March 9 in Jefferson Parish who was later hospitalized in Orleans Parish. Louisiana is sitting at 18,283 confirmed cases of COVID 19 in the state and 702 reported deaths. 63 of the 64 parishes have been affected. 5,242 cases have come out of New Orleans. Gov. John Bel Edwards is asking his populous not to let up on social distancing and to stay home. Underlying health factors have been factored in and adding to the conversation about why Black citizens are dying at a higher rate. Edwards was optimistic at the end of his briefing stating that health officials were starting to see a decrease in the rate of new hospitalizations.
Massachusetts: According to the New York Post, it has been discovered that coronavirus is being found in the wastewater at levels "far higher than expected." According to a new study, this evidence suggests that there are a lot more suffering from the illness that are going undiagnosed. With the number of coronavirus particles being traced in the water, it suggests that 2,300 people are infected in the state. After the research was shared with local health officials, they admitted that it was possible that there are hundreds of undetected cases. During the time of the tests, there were only 446 confirmed cases.
Michigan: According to ABC 12 News, Michigan's COVID-19 death rate has risen over 100 for the second consecutive day. The department of health and human services have reported 118 plus deaths provided by the COVID-19 virus. The totally death rate is 845. The Genesee County Health Department has the largest increase with 70 new cases and six more fatalities. Genesee County has the largest cases and deaths outside of the Metro Detroit vicinity. Saginaw County had three deaths due to the COVID-19 virus. Saginaw also has 14 presumptive cases pushing that counties total to 153. Tuscola County Medical Care Community has twelve residents who tested positive as well as staff members who tested positive, too. The total Tuscola County Medical Carr Community cases are 26 with two residents who succumbed to the disease.
Mississippi: Fears of coronavirus reaching Mississippi prisons worries advocates, reports NBC News. So far, state officials say, no inmates at Parchman or Mississippi's other state prisons have tested positive for coronavirus. However, a federal prison complex Yazoo City in the Mississippi Delta reported April 7 that 25 inmates and three staff members have the coronavirus. Mississippi has one of the highest per-capita incarceration rates in the nation.
Missouri: According to the Missouri Department of Health on April 12, there have been 136 new cases of COVID-19 bringing the number of confirmed cases in the state to 4,160. Of the 4,160 confirmed cases, 110 people have died due to the coronavirus. According to a projection model from the University of Washington's Institute for Health Metrics and Evaluation, Missouri will begin to see a peak in reported deaths around April 25.
Nevada: The New York Times reports that, as of April 7, Nevada has seen 1,971 total coronavirus cases and 58 deaths. A recent study by Oxford Economics says that Nevada is the second most vulnerable state in the US in terms of the economic impacts of the virus. This is mainly because its economy is dependent upon tourism and retail, two things that have been halted. About 206,000 casino workers in Nevada have been affected by the national shutdown. Some casinos, like Wynn Resorts, have been continuously paying employees. The largest employer in Vegas, MGM, has only given employees two weeks' pay. The Economic Policy Institute projects Nevada unemployment to be 19.7% by the summer.
New Mexico: KOB.com, a local news website for the state of New Mexico, has reported two new deaths and with that, the total death toll has hit 1,000 cases. There were over 106 new positive cases announced and as that wew announced the case total came up to 1,091. Over 75 people are hospitalized and there are 235 that have recovered from the virus.
New York: According to the New York Times, as of April 8, the state has released new and alarming data. Hispanics make up 34 percent of people who have died of the virus but only 29 percent of the population. Blacks make up 28 percent of those who have died, but only 22 percent of the population. On the other hand, whites make up 32 percent of the population and 27 percent of people who have died. Asians makeup 14 percent of the city's population but account for only 7 percent of fatalities. New York's Mayor Bill de Blasio said that this is related to economic inequalities and lack of access to health care. City officials reassure that public hospitals will see everyone regardless of their immigration and insurance status.
Ohio: According to the Cincinnati Enquirer, there are 5,836 confirmed cases and 227 COVID-19-related deaths in Ohio. Amy Acton, director of the Ohio Department of Health, said Ohio's record of confirmed cases and deaths is not an accurate representation of reality and is merely the "tip of the iceberg" due to Ohio's lack of testing. According to WOSU Radio, Ohio State University received FDA approval for "a new testing solution and swab" that will grow testing availability. WOSU Radio reports the Ohio State Wexner Medical Center created 50,000 swabs from 3-D printers for Ohio hospitals. Due to Ohio's lack of testing, officials request symptomatic people seek testing only if necessary.
Oregon: According to the state's health department on April 12, there are 1,447 confirmed cases of COVID-19 with 28,600 tests conducted across the state. Of the 1,447 confirmed cases, 51 people have died from the coronavirus. Many cases have been linked to medical facilities, according to the New York Times.
Rhode Island: As of April 5, Rhode Island had 922 infected citizens and 25 deaths. Since the outbreak, an approval poll was run on the handling of the virus by Governor Gina Raimondo, showing 76 percent of Rhode Island citizens approved of her moves according to a WPRI.com article. This is interesting because a similar poll was run for Rhode Island citizens pertaining to how President Donald Trump handles the virus, and he came in at 27 percent.
Vermont: According to the New York Times, Vermont's first case of coronavirus was on March 7. Governor Phil Scott put under effect a stay at home order to all Vermont citizens effective on March 25 at 5 p.m. and will remain under effect until at least April 15.
Virginia: Wavy.com reports that on April 2 Virginia had 1,708 confined cases and at least 305 hospitalizations and 41 deaths. With the death toll jumping by 34 in a day. 44 of the total deaths were in the Richmond area, with 32 coming from a long-term care facility in Henrico County and 22 came from the Tidewater area. The state is reporting 33,026 people have been tested for the virus so far with 4,042 total cases, 685 total hospitalizations, and 109 total deaths across the state. State Commissioner Norm Oliver said that it is hard to track recoveries, but most people who contract the virus do recover.
Washington: According to the Washington State Department of Health, as of April 5 there were 8,384 cases of COVID-19. A total of 87,902 tests were distributed and 372 deaths were reported. On Governor Jay Inslee's website, he stated that all schools will be closed for the 2019-2020 academic year, a change from his original order of schools opening on April 24. Inslee stated, "This closure is guided by science and is our greatest opportunity to keep our kids, educators, and communities safe." The Department of Corrections of Washington State confirmed that the first case of an incarcerated person testing positive for coronavirus occurred on April 5.
Wisconsin
According to WBay.com, a local news website for the state of Wisconsin, there are 128 new deaths in the state and this is just as the country as a whole reaches the peak of incoming cases and deaths. The state has since relaxed the testing guidelines, which means people who fear they may have the virus can get tested. This will give health care providers more leeway with their patients.