Men's Basketball Team Wins Third National Championship In 10 Years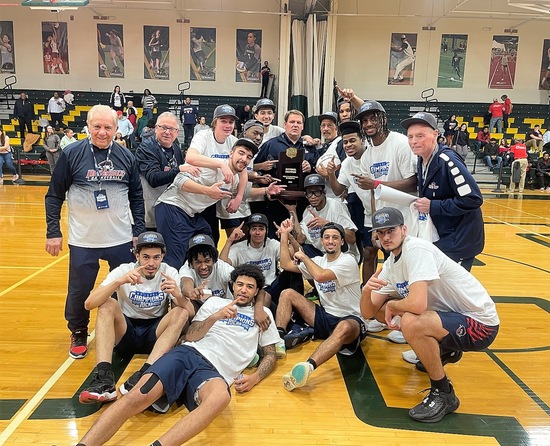 "When you get kids who want to be good and want to work to be good, you can do big things," said Brookdale head coach, Paul Cisek following the game, in a postgame interview with NJCAA TV which broadcast the game on March 18. The (31-3) Brookdale Jersey Blues defeated the (30-5) Sandhills Flyers for the 2023 NJCAA championship at Herkimer College.
Brookdale struggled in the first half, being out-rebounded and outscored. Sandhills led by as many as 11 points in the first half. Brookdale cut the deficit shorter, after scoring the final four points to go into halftime trailing 38-45.
Both teams exchanged baskets in the beginning of the second half. Flyers forward, Bryan Quiller slammed a roaring dunk against Brookdale, which gave the Flyers a 9-point lead. This prompted the Jersey Blues to call a timeout and from thereon out, the momentum of the game shifted.
After the timeout, Brookdale scored six straight baskets and went on a 15-6 run to tie the game. Brookdale guard, Nick Williams scored a go-ahead basket to put the Jersey Blues on top of the Flyers by a score of 69-68. Williams' basket was a part of a 12-0 by the Jersey Blues. Brookdale would never relinquish its lead as they went on to win the game by a final score of 90-82.
Brookdale had more 2nd chance points, more made free throws, a higher field goal percentage and fewer turnovers than Sandhills, which contributed to the victory.
Brookdale guard, Kevin Mateo was the game's leading scorer with a total of 31 points and Brookdale forward, Niles Hailburton led the game with 12 rebounds and he recorded a double-double.
Freshman forward, Darnell Askew recorded nine rebounds and scored 20 points. Mateo was also named the tournament's most valuable player. Mateo scored 61 points with 11 assists and nine steals through three tournament games. Brookdale's Mateo, Hailburton and Williams were all selected to the tournament's all-star team.
In what some would call a dynasty, the Brookdale Jersey Blues have now won its third NJCAA men's basketball championship in 10 years.
On Tuesday, March 28, the Brookdale Board of Trustees honored the team with President David Stout declaring the day, "Jersey Blues Men's Basketball Day."
An official proclamation from the board talked about how the team "battled through adversity" and saw "numerous personal accomplishments," including Cisek's 600th career win.
"Every five years, we've won a championship. Hopefully we can do it a little faster," Cisek said, nothing that while eight players are graduating six will be returning next year.