Humanitarian Aid in the Midst of Natural Disasters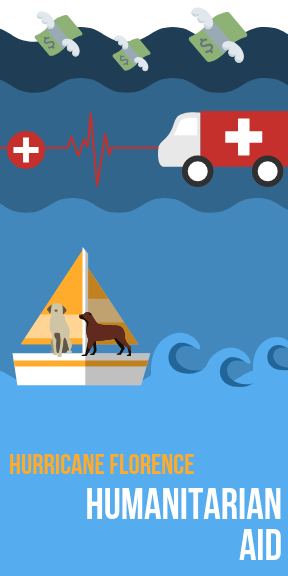 Hang on for a minute...we're trying to find some more stories you might like.
Hurricane Florence has recently ravaged the Carolinas, leaving behind destruction to people's homes and livelihoods. In the wake of the hurricane, the federal government, nonprofit groups and volunteers all play a large part of the relief process.
According to the American Red Cross, on Sept. 14, approximately 2,000 volunteers from across the country have been helping in shelters, where over 20,000 were being housed last week. Nurses from numerous states have registered with the American Red Cross and have travelled to North Carolina to volunteer.
Similarly, firefighters from other states also travelled to North Carolina to secure utilities at vacant homes for fire safety and prevention efforts, such as turning off the power.
Convoy of Hope, a faith-based nonprofit organization is currently in North Carolina with a shower truck and mobile kitchen for victims.
Americares, a non-profit disaster relief and global health organization, along with 70 health partners are supplying victims with pharmaceuticals, insulin and medical supplies.
Save the Children, a child rights group is distributing cribs, diapers, wipes, strollers and cribs to families with younger children.
The American Red Cross has also collaborated with partners to serve 47,000 meals. Southern Baptist Disaster Relief  volunteers are serving meals, too, and helping clear out what they can in affected areas.
Southern Baptist Disaster Relief, along with the Salvation Army also providing spiritual care and counseling.
USA Today covered a story in which the Coast Guard saved several dogs, including 10 beagles and a few pitbulls. The dogs were rescued on a 16-foot Coast Guard punt boat.
You can help, too. Some popular organizations that you can donate to are the American Red Cross, the Salvation Army and Save the Children. You can also donate blood, considering the Red Cross, among other organizations, are in need of it following a natural disaster.
So, here's the good news: in the midst of natural disasters, the human spirit shines through, in the form of humanitarian aid and volunteering.