Meemom's Is a Must-Try Morning Treat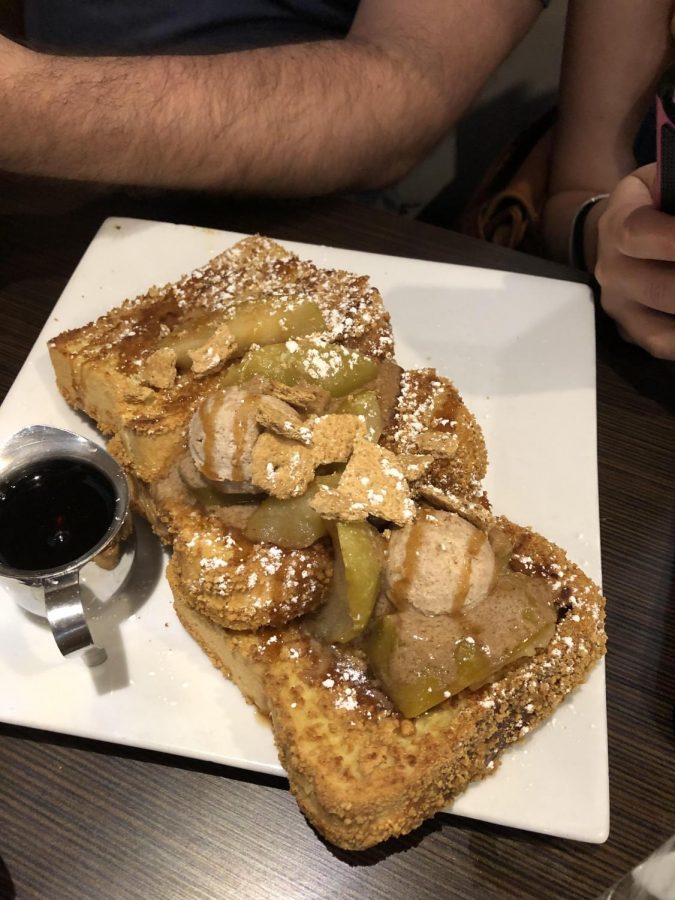 Who remembers eating breakfast early in the morning before school? You know what I'm talking about. We mostly just ate cereal because we didn't have time. Well, now that we are all older, we have time to make breakfast. 
However, what if I told you there is a breakfast place for you? It has big portions, a huge variety of breakfast items and is not expensive. Well, like my mom would say, "Hurry up and get ready for the day." The only way to do that is eat at Meemom's.  
The Meemom's I went to is located at  1383 Route 35 in Middletown, but they also have two other locations. One is at 3541 1825 Route 35 in Wall Township, and the other is at 56 Chambersbridge Avenue in Brick.
I went with my sibling on a nice Saturday morning. I rate my food adventures with five criteria: service, options, price, portions and taste.
First, let's start with service. Our server had a go-getter attitude. Because there were so many options, we couldn't decide. We asked for her opinion, and she gave us all the reasons why and why not to choose. Her favorite was the Biscuits and Gravy, which is only $10.50. I ended up getting that. 
Now that we know the service is good, let's talk about the food options. Meemom's has everything a breakfast-lover could want and more. They have assorted french toast. Now this isn't your ordinary french toast. They have Y.O.L.O.  which stand for You Obviously Love Oreos, Campfire (which is a smores take), The Big Bun, basically a cinnamon roll and apple pie. 
Let's start stacking up on pancake options. They have Cinnabon, another take on cinnamon roll, Peach Berry Cakes (a peach-infused, berry fruit pancake) and Honey Blue (some honey drizzled over blueberry pancakes). Now that might be a sugar attack so let's move to the savory side. 
Let's talk eggs and omelets. Chorizo Me Crazy is a chorizo and pico de gallo cooked in a chipotle cream sauce, served over two scrambled eggs and toasted sourdough, topped with avocado and served with spuds. Havana is chorizo, jalapeños and melted cheddar jack, topped with pico de gallo and served with house-made salsa. 
Finally we have waffles. We have The Belgian, garnished with fresh berries and powdered sugar and E.T., which is from another planet! E.T. waffles are topped with chocolate mascarpone, Reese's Pieces, whipped cream, chocolate chips, and powdered sugar. 
And now for the moment of truth: How much was it? Not expensive at all! French toast options, including the signatures ones, are only $8.50 to $11. Pancakes range from $7.50 to $11. Finally, the eggs are the eggcellent price of only $6 to $10.50. This is diner pricing, but quality restaurant food.
The portion size is big enough to feed two people. The french toast is three big, thick pieces of bread covered in a load of fruit and toppings. The pancakes cover your whole plate, and the eggs fill up half your plate. Talk about a big breakfast. After eating this, you're gonna wanna go to bed or work that food off. 
Finally there is the taste and flavor. Now, I'm more of a savory person. However, I took a bite of my sister's Apple Pie French Toast, and I was changed. The apples were soft and melting in my mouth. The apples were coated and caramelized with just the right amount of sugar, not too sweet. The french toast was soft like a pillow with a crunchy outside. 
When I had my meal, the Biscuits and Gravy, my taste buds where watering. My meal consisted of  garlic cheddar biscuits topped with hearty sausage gravy, served with two eggs. The gravy was creamy and smooth. However it gave you a little punch with the jalapenos inside of it. There were also little bits of chorizo in the gravy. Their biscuits were amazing. It was like I bit into a cheese butter biscuit from Red Lobster.
Overall, I have never really been a breakfast person. Now, I am! Meemom's food is so heartwarming and fills you up. 
Next time you want a decadent breakfast, Meemom's should be your No. 1 choice.