Coronavirus updates from around the country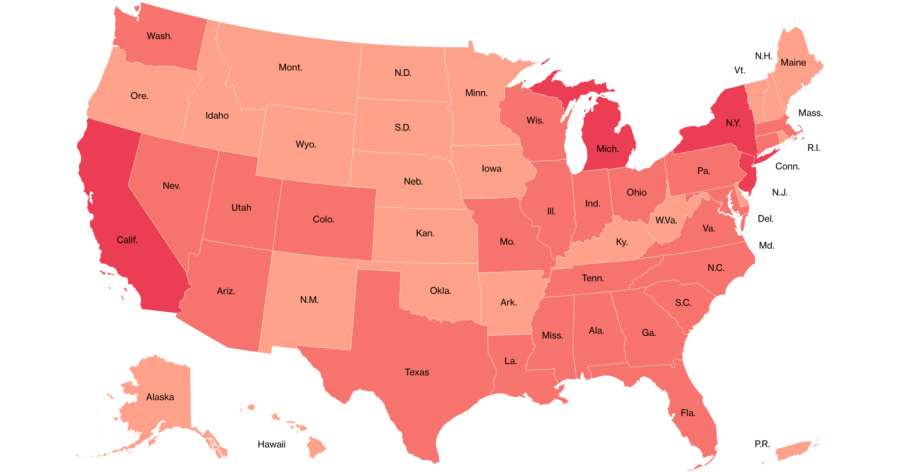 Staff Writers
April 6, 2020
Colorado: Colorado has had almost 100 deaths from COVID-19. Almost 3,728 people have been tested positive although there is a belief that there is more. About 700 out of those who tested positive have been hospitalized. The use of phone location data shows decreased drops in travel and trips, including a 51 percent decrease in shopping and recreation.
Connecticut: According to the New York Times, Connecticut has seen 3,128 cases of the virus. More than half of these cases have been in Fairfield County, which is predominantly a commuter county to New York City. March 31 saw a large spike in deaths from the virus for CT. On March 30, there were three reported deaths, compared to over 30 on March 31.
Delaware: About a week from now, Delaware is predicted to see a surge in demand on health care resources with hospitals likely reaching capacity, according to models from the Institute for Health Metrics and Evaluation (IHME) out of the University of Washington. That surge will happen on Saturday, April 11, and according to IHME, they need 777 hospital beds to meet it. IHME data showed just 696 are available. They also lack enough intensive care beds for a surge. Because Delaware is behind on testing, epidemiologists are forced to rely on models like IHME to determine how the next few weeks would look for them.
Florida: As of April 1, there are 6,955 confirmed cases and 87 deaths in Florida. Orlando Sentinel makes light of criticism surrounding Gov. DeSantis's lack of urgency in declaring a stay-at-home order compared to most other states. Epidemiologist William Hanage of the Harvard T.H. Chan School of Public Health says Gov. DeSantis's slowness in locking down the state and Florida's high elderly population slates Florida for being one of the "hardest-hit regions" with a large stake in the U.S. death toll. Two cruise ships, the Zaandam, which carries coronavirus patients and experienced four deaths aboard, and the Rotterdam, which carries healthy patients evacuated off the Zaandam, are headed to dock in South Florida but Broward County, Florida has not made a clear decision about whether they will allow them to dock in their port or not.
Indiana: The total cases of coronavirus in Indiana have reached 3,000. State officials announced today that schools will be closed for the remainder of the year. This week was the deadliest week for the state as they had 13 new deaths this week alone and a total of 78. Indiana is now the 11th state to announce that their schools will be closed for the rest of the year. State officials expect the number of cases to keep increasing in the coming weeks. Like many states one of their main concerns is supplies.
Kansas: According to a New York Times database, there are 434 cases of COVID-19 in Kansas. KWCH12 News reports that a man was arrested for terrorism in relation to the coronavirus. Archie Seamans, 31, was arrested for coughing on an 11-year-old girl and saying he would give her coronavirus. Governor Laura Kelly instituted a stay-at-home order as of March 30. This order will last until April 19. Like many other states, people are still able to perform essential activities such as grocery shopping.
Louisiana: As of April 3, Louisiana had a total of 10,297 positive cases with 61 of 64 parishes being affected. According to WDSU News, 370 deaths have been reported. 3,476 cases were reported in New Orleans alone. Louisiana is now the 5th in the nation for active cases. This week being the highest reported new cases. Friday's numbers grew by 1,000, and Thursday's numbers increased by 2,000. Spikes were expected due to the lab blockages being cleared. Governor Edwards like most state officials across the nation has issued a stay at home order and is stressing the importance of physical distancing. He warns that all parishes will be affected. The silver lining is that even with the spikes those people were tested days ago and are self-quarantining.
Massachusetts: As of today, Massachusetts has recorded 1,228 new cases and 37 deaths. As of today, the house also passed a bill in M.A. suspending rent in light of COVID-19's effect on the workforce and economy. This includes not allowing landlords to charge late fees and will be lifted after 30 days after the governor lifts the state of emergency. The state is also preparing for a highly anticipated surge in cases this month. "We are about to enter what will be perhaps the most difficult period associated with this particular virus," Gov. Charlie Baker said earlier this week.
Michigan: Michigan has 10,791 positive coronavirus cases. 417 deaths in total, all k-12 schools have closed for the rest of the year. Each district has to create a new alternative learning plan. Unemployment has jumped from 128,006 to 311,086. The senior PGA championship has been canceled also alcohol sales have risen since the pandemic has begun, according to Mlive.com
Mississippi: Mississippi now has the highest rate of coronavirus hospitalizations of any state, according to Mississippi Today and Newsweek. Currently, the rate of hospitalizations in the southern state stands at about 31 percent, with 332 people hospitalized out of 1,073 infections. Mississippi Governor Tate Reeves on Wednesday ordered all state residents to "shelter in place" after resisting such a move for several weeks. The order lasts through April 20.
Nevada: According to the New York Times, there have been 1,279 total cases in Nevada and 31 deaths. As of March 12, the governor of Nevada has issued a state of emergency and a travel advisory for the state. Las Vegas has been hit particularly hard economically as it is a city dependent on tourism, entertainment, and services. A large Las Vegas homeless shelter had to close and moved its dependents to a parking lot where hundreds will now have to sleep in the spaces of a duct tape grid used to delineate safe distances.
New Mexico: New Mexico has 495 positive cases, 15,137 negative test results, with 34 people recovered and 10 dead. The La Vida Llena nursing home experienced two coronavirus-related death and has 19 residents who tested positive along with three staff members.
Ohio: According to NBC4 News, there are 2,547 confirmed cases and 65 deaths in Ohio. Gov. Mike DeWine announced a stay-at-home order on March 22. Dr. Amy Acton of the Ohio Department of Health says that the number of confirmed cases in Ohio is not accurate because there is limited testing available in the state. Acton will require hospitals to send coronavirus tests to other Ohio hospitals instead of labs. According to Acton, the labs are verifying the tests at an "unacceptable" rate.
Oklahoma: According to Live Science, Oklahoma is reporting 879 confirmed cases of COVID-19 and 34 deaths, according to the Oklahoma Department of Health on Thursday (April 2) Governor Kevin Stitt declared a state health emergency, calling on the state Legislature to convene at 8 a.m. on Monday to vote on the declaration. The executive order would give governor Stitt "broad authority to seek additional state and federal aid, relax regulations and mobilize additional state agencies and state employees to assist with emergency response," The Oklahoman reported.
Pennsylvania: According to the Department of Health there are 8,420 confirmed cases in PA. All 67 counties in Pennsylvania are under a stay at home order through April 30. Schools are closed until further notice. The Pennsylvania COVID-19 guide was created as a place for Pennsylvanians to quickly find the resources they need during the COVID-19 pandemic.
Virginia: NBC12 reports that Virginia has 2,012 confirmed cases, 36 deaths, and 312 deaths as of April 3. Governor Northam has also taken this time to encourage people to fill out the census so that when this crisis is over, they can get the federal money that they are entitled to. This could help the state fight financial woes that have come up in the state as a result of the current crisis. The state has deferred all federal housing loans for up to three months and all evictions for people with housing vouchers. Northam also addressed upcoming elections stating that candidates will need to find more creative ways of campaigning but is encouraging the populous to use the absentee voting system. Northam stated that he is making decisions based on science and data and takes full responsibility for his decisions as well as its effect on the people he governs.
Washington: As of March 28, there are 4,896 cases of COVID-19 in Washington according to the Seattle Times. This number of cases has yet to be updated due to an overflow of data from the disease reporting system. This has caused problems for the public, who are unaware of whether the spread is increasing or decreasing. Seattle Times also reports that Washington has received 500 ventilators from the federal government. However, healthcare workers need of more supplies as new cases emerge.
Wisconsin: The death toll for Wisconsin reached 50 people, with more announcements soon to be made. Over 1,900 cases were confirmed in only four hours ago, this was coming from Channel 3000's website. To be a little bit more positive, they have received over 22,377 negative tests, while 487 people were hospitalized all coming from the Wisconsin Department of Health Services.