One World: At Home Together Concert Raises $127 Million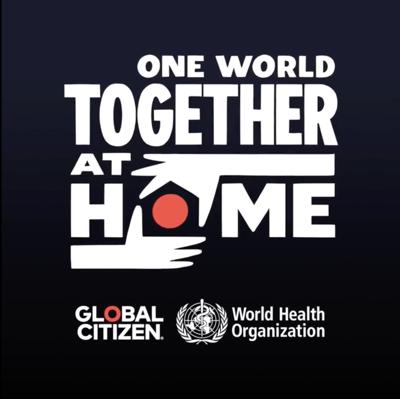 One World: At Home Together Concert Raises $127 Million
By Hannah Minnick
Over 20 million people tuned in to watch the biggest artists in the music industry on April 18, during the global broadcast "One World: At Home Together." The concert, curated by Lady Gaga's partnership with The World Health Organization and Global Citizen, aired across 30 networks to support front-line workers battling the COVID-19 pandemic.
The 8-hour live stream, hosted by Jimmy Fallon, Steven Colbert, and Jimmy Kimmel, featured both pre-recorded and live musical performances from artists such as Lady Gaga, Paul McCartney, Elton John, Billie Eilish, and The Rolling Stones. Many chose to sing original songs, while other artists chose to cover songs that suited the program. Lady Gaga performed a cheerful cover of Charlie Chaplin's beloved tune, "Smile", while Coldplay's frontman, Chris Martin, sang "Yellow," a familiar classic.
The concert was interspersed with messages from people such as Michelle Obama, Oprah Winfrey, and Matthew McConaughey, sharing their support for the front-line workers in combat during the pandemic. Many health care workers shared stories about their experiences fighting against the novel COVID-19.
"I care so much about all of the medical workers that are putting their lives at risk for us right now. I think of them every day, I pray for them every day, and I'm also thinking of all of you that are at home, who are wondering when this is all going to be different," said Lady Gaga, after her live performance.
Although there were technological obstacles with an occasional lack of equipment, performers brought an element of humility as they propped their webcams up and invited the audience into their living rooms. Charlie Watts of the Rolling Stones played an improvised set of air-drums during the performance of, "You Can't Always Get What You Want".
Of the $127 million raised, over $55 million will be distributed to the World Health Organization's COVID-19 solidarity response fund that will support the development of testing, treatment, and finding a vaccine. Additionally, over $72 million will be dispersed to charities such as food banks, public housing developments.
To view the entire broadcast of "One World: At Home Together", visit www.globalcitizen.org
Additionally, audio recordings of live performances can be streamed on the Spotify music app.