Comedy for a Cause: Comedy Crossing Offers Laughter, Hope Amidst Darkness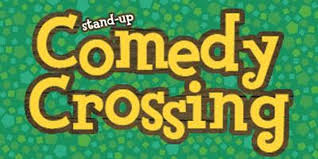 A REMOTE ISLAND IN THE ANIMAL CROSSING UNIVERSE – Clever quips and lively laughter poured through computers and smartphones Oct. 10 as hundreds opened their Zoom links and tuned in to "the world's first ever Animal Crossing stand-up comedy show."
Comedy Crossing, hosted by comedian Jenny Yang, is a free show that capitalizes on the current climate of social isolation and political turmoil by offering a brief escape from the bleak, and a commitment to a cause. Donations to Black Lives Matter organizations are accepted via Venmo at every show. To date, the show has raised over $25,000.
Attendees entered the Zoom call Saturday night and were greeted by Jenny Yang, who welcomed them into her own house in Animal Crossing. The virtual Yang gave the audience a tour of her first floor, showing off the bidet in her marble-floored bathroom, as she completed her "pre-show ritual" before she stepped onto the decorous virtual stage. Complete with spotlights, audio equipment, a microphone stand, a green room, and a small crowd, the venue was an exact replica of a real comedy club.
"What a year this week has been," Yang said as she commenced the show, echoing the sentiments of everyone in the crowd. Apt for the moment, her brief set was full of politically-charged commentary and jokes about the ideological battleground that Twitter has become. Meanwhile, her virtual self, controlled by one of the show's producers, moved around the stage and gestured with each statement. The avant-garde puppet show proceeded to its first comedian of the night, Christopher Bryant.
The first of four Los Angeles-based comedians, Bryant brought awareness to autism and gender identity throughout their set. Non-binary and recently diagnosed as autistic, Bryant joked about their tendency toward brutal honesty at inopportune moments, and the fine line between sass and the signs of Asperger Syndrome.
Next to the stage was Dana Donnelly, whose deadpan style drew plenty of laughs from the crowd. "Animal Crossing is like New Zealand," Donnelly said, "because there's no COVID in either of them." Her range of topics was wide, but the monotone, casual delivery never wavered. "I'm not religious, but I do relate to Christians," joked Donnelly, "because I too have been obsessed with the same guy for thousands of years." After about 10 minutes of straight-faced jokes, the virtual Donnelly left the stage, and DeWayne Perkins entered the spotlight.
Perkins was named one of Variety's "10 Comics to Watch" for 2020, and he certainly lived up to the acclaim, delivering jokes about his identity as a black, gay man. Coming from a conservative family, Perkins joked that his mother sent him to "Scared Straight" because she "thought it was gay conversion therapy." After a succinct set, and an admittance of his intoxicated state, Perkins left the stage and Chris Fairbanks stepped up.
Refusing to get his hair cut during quarantine, Fairbanks sported a strong mustache and hair like Sideshow Bob's from the Simpsons. After an admittedly fumbled start, Fairbanks drew raucous laughter from the crowd with a rebound: "Thanks for letting me get off on the wrong foot there, but is there really a right foot to get off on? I mean, who gets off on feet? What are you, a weirdo?" He followed this joke with several anecdotes from his childhood and the news that his identity had been stolen, which forced him to rewrite material from scratch.
Once Fairbanks finished his set, Yang thanked the crowd for attending, encouraged people to donate, and brought the virtual line-up into the venue's green room for a brief talk. The audience showered the comedians with praise in the Zoom chat, and the comedians declared the show a success, looking forward to the next one. Comedy Crossing will return the first and third Saturday of each month. Attendees can expect plenty of laughs during these gloomy times, and an opportunity to add to the impressive donation total.