Pet Therapy: Send a Petgram Today!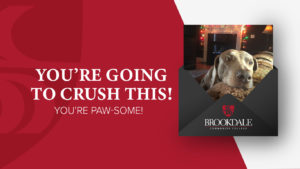 Visits from therapy pets are one of Brookdale's most popular student activities. And while such visits are implausible this semester with most students working from home, Student Life and Activities has found a way to share pet joy as the semester comes to an end.
Brookdalians can spread the cheer by sending a Petgram to anyone in the Brookdale Community, students, professors, administrators, and staff. Senders will have the opportunity to choose from a variety of pet images, featuring cats, dogs and even a reptile. They will also get to select a message such as, "You're going to crush this! You're Paw-som!" or "Nothing is imPawsable. Let's do this together!"
Fill in the form and brighten someone's day. https://www.brookdalecc.edu/advancement/college-relations/petgrams/
All requests have to be completed by Tuesday, Dec. 8 and will be sent via email on Wednesday and Thursday.