TIN Fundraiser Aims at Bringing Butterflies to Campus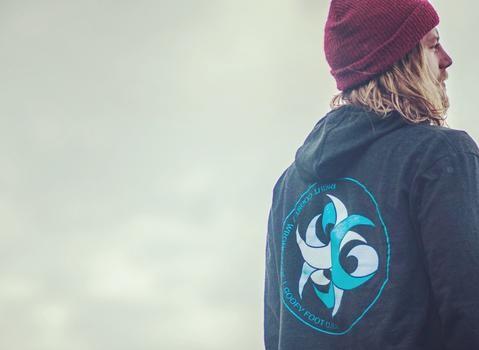 The Innovation Network is holding a community-wide fundraiser to finance the building of a monarch waystation and meditation garden on Brookdale's campus.
"We decided to partner with Goofy Foot USA because we knew we wanted to support a local business while also making an environmentally sound decision. Goofy Foot is a sustainable surf, skate, and beachwear brand. All products are made of 100 percent renewable materials, 50 percent recycled water bottles, 50 percent up-cycled cotton", said Maeve Maguire, a 20-year-old math science major from Middletown and president of The Innovation Network.
"While supplies last, all purchases made via the Goofy Foot USA website will benefit Brookdale's monarch waystation and meditation garden. We are happy to support The Innovation Network and their hands-on learning efforts," said Professor Annmarie Hughes, assistant professor and co-department chair-Fashion Merchandising and Marketing at Brookdale Community College and owner of Goofy Foot USA.
Those seeking holiday presents or maybe a treat for themselves are encouraged to visit, goofyfootusa.com and order T-shirts, hats, sweatshirts, etc., knowing their purchase will help bring a Butterfly/Meditation Garden to Brookdale.
The Innovation Network, referred to as TIN, is a student-led organization that applies project-based learning to real-world problems, finding creative and efficient ways to think globally and act locally.
According to Gillian Omotoso, a 23-year-old psychology major from Ocean Township and secretary of The Innovation Network, "This year, the garden project offers several educational opportunities. It creates a monarch habitat where students can learn about the importance of pollination and native plants while also offering insight into the medicinal value of herbs such as sage, echinacea, rosemary and lavender. Creating a monarch waystation and meditation garden not only provides campus-wide educational experiences, but it also offers a spot for students to relax and enjoy the campus's beauty".
Faculty members facilitate the learning experience within The Innovation Network and offer general guidelines.
"TIN students work in multidisciplinary project teams to identify and solve real problems developing teamwork and collaboration skills highly valued in the 21st Century job market. Students may also earn class and service-learning credits at Brookdale Community College while enhancing and supporting Brookdale and their community," said Professor Tom Berke, a chemistry professor who is co-creator of the Global Citizenship Project and founder of The Innovation Network.
To volunteer to create the monarch waystation and meditation garden, please contact The Innovation Network at [email protected] or follow us on Insta @tin_bcc. For more information about how you may receive credit from courses that direct you to participate in TIN projects or how to earn service-learning recognition, contact The Innovation Network via e-mail at [email protected].