'Them' Review: 'We Don't Need Another TV Show to Tell Us Racism Is Horrific'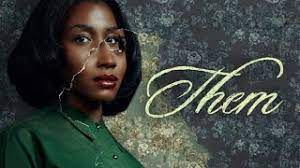 As a horror movie fanatic, I found the prospect of the new Lena Waithe produced Amazon series "Them" exciting. Waithe is the prolific screenwriter behind "Ready Player One" and the more recently popular "Queen and Slim."
With these films alone, she has proven herself an insightful storyteller. My initial assumption was that Waithe and her partner in the series, Little Martin, would jump on the new trend of horror told from the Black American perspective as seen in "Get Out" or the HBO series "Lovecraft Country." These stories thread racism into truly terrifying but equally empowering stories.
In preparation for writing this article, I did a bit of research. I reviewed clips of the cast during the show's press tour, advocating for the importance of telling this story, relating their own experiences with racism and bias to their characters, further confirming my assumption that there would be something positive to pull from this story once it had been told in its entirety.
Then I reviewed the trailers and felt conflicted. The trailers highlighted a black middle-class family in the 1950s who move from North Carolina to California for a new start. The family of four is not unpacked before they are harassed by their racist neighbors while simultaneously struggling through significant mental health challenges.
I was uncertain how this twist on the historical redlining that affected many black families could be turned into a scary movie when impacting black families today. I could not find where the disconnect to reality was, but it would be needed to keep the hold on its intended audience.
After the trailers were released, controversy was immediately ignited amongst the black community, frustrated that this was likely another example of Hollywood exploiting black pain for entertainment. The same had been said of "Get Out" before its release, but I had been pleasantly surprised as the trend expanded to more movies.
This genre has turned defeated main characters into superheroes, rewriting America's often unacknowledged history, empowering them against their "monsters" as seen in "Lovecraft Country." While there were hard-to-watch moments, they were ultimately followed by moments of retribution and justice, making it cathartic for those who knew all too well how the protagonists were feeling.
Although hesitant, I decided to make my own judgment and give it a chance. As I grabbed my drink to settle down on the couch to watch the series, I took a deep breath to release some of the anxiety that has built over the weeks and months. I turned off the live alternating protest coverage of the Daunte Wright murder and Derek Chauvin trial and hit play.
Over the course of two days, I only made it through three episodes. This show evoked a lot of feelings. Here are my thoughts without giving anything away:
● The timing of the release of this series is horrific. I don't know when the right time would be, but it shouldn't be during collective grieving and frustration. In a week when we've seen an Army sergeant maced and told he should be scared when he openly expressed his terror, as we watch back-to-back coverage of a trial where the murder of George Floyd has been all but confirmed, even as we saw it with our own eyes.
In the past few days, we have added Daunte Wright to the seemingly endless hashtag series after his killing had been initially and controversially labeled an accident. It feels as if salt is being shoved into an unhealed wound.
● There are several moments in the show that most POC (People of Color) can relate to, having had these experiences in the community, their workplace, and as they interact with authorities. There were three or four moments in the third episode where I could cite my own similar experiences. At times, it felt less like a horror movie and more like a commentary on life as a POC.
● Who is this story for? This show doesn't seem geared toward the audience it is intended for. The debilitating mental health challenges of two of the main characters, combined with the relentless suffering and harassment, could be triggering for those that have had similar experiences.
There are moments when the protagonists push back or fantasize about doing so, but there's never justice for them. They simply accept it as a part of integrating into the white community and find ways to cope. There's no lesson to be learned for the antagonists. It makes this show challenging to work through at times.
● When one of the main characters did receive some reprieve from the harassment, it was in a moment of code-switching and finding comfort in "the ghetto." It almost felt as if it was to say the characters got ahead of themselves, and they are paying the consequences for doing so.
Overall, the acting was stellar, and the videography was outstanding, but if the first three episodes are any sign of what's to come for the remaining seven, I'm going to have to tap out early. There are ways to tell these stories without exploiting the real-life suffering of black Americans and glorifying and empowering racist ideology.
It's time to find a new approach to including racial commentary in stories that involve POC. The unrelenting suffering and injustice are enough in real life, I don't need a show to double down on a life experience that is already all too real for my family and me.
Overall, I like the show. The story is interesting and, as I mentioned before, the acting is fantastic and the cinematography was beautiful. Unfortunately, the emotions are too real and too raw with all that is happening in this country right now.
Even when stepping away from writing this article and picking up my phone to decompress and recharge my ability to better express myself, another violent racist incident between a white man and a younger black man had gone viral and popped into my Twitter feed. The comments overwhelmingly compared the 3-minute video to the racism depicted in this particular show.
An old friend of mine lives in the town where the incident occurred had reached out to me to vent as we always do when these issues arise. She too was disgusted, angry and tired. She relayed that she and other community members are organizing a protest to demand some level of accountability for the man's inexcusably violent and racist behavior. This is what we have here in our reality, not in some fictional world in 1950, but here in present-day 2021.
We don't need another movie or TV show to tell us that racism is horrific. We need a break.