The Horror Movie That Will Lure You Out Of Your Quiet Place And Back Into The Theater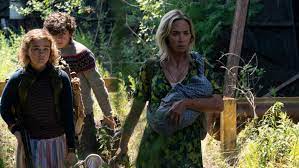 "A Quiet Place Part II" is once again directed by John Krasinski who also has sole writing credit this time around and features the same core cast from the 2018 film with Krasinski being swapped out for Cillian Murphy.
This was one of the more infamous film delays due to the pandemic. So much so that the first cancelled SNL episode in early March of 2022 was going to be hosted by Krasinski to promote the release of this movie.
It's clear that the filmmaker and Paramount studios were going to do everything they could to ensure audiences would be able to view this at the cinema, and this was clearly the right decision.
The first film of the series was nothing short of a revelation when it was released. It really was a "water cooler" movie where people would go to see it just to be able to say that they saw it and then discuss it with their friends. It was innovative, intelligent and most importantly fresh.
This was a relatable and personal monster movie that audiences had not already seen before. Which is part of why it was such a cinematic experience.
I love the first film, and to be completely honest, when a sequel was announced, I was quite hesitant. But now, after experiencing this new film in a theater, I can joyfully say that it was worth the wait of three years from the first film and over a year of delays due to the global pandemic.
This film really defies the statement that "lightning doesn't strike twice in the same place." It mirrors a lot of the same tone and pacing as the 2018 film and also let's Krasinski really start to stretch his directorial muscles. I don't think it would be an exaggeration to say that Krasinski is one of the most exciting and bankable new directors in Hollywood despite only directing three feature films.
To start, the opening sequence is somehow arguably better than the opening from his first film, which if someone would have told me this prior to seeing it I would have thought that was impossible. The first film's opening sequence is so gut wrenching and relentlessly heartbreaking that it really sets the tone of the type of film we are about to embark on and the skills that the cast and crew have put into the movie.
But this film's opening sequence takes place on day one of the alien invasion and does such a marvelous job at balancing the paranoia of something foreign breaching a small community in epic fashion while also making it seem relatable and something you can imagine happening in your own hometown. It makes for an excellent refresher to the last film and could stand alone as its own invigorating short film.
In addition to this the returning cast of Emily Blunt, Noah Jupe and Millicent Simmonds are all fantastic. Blunt does a great job at showcasing her experienced acting chops by being involved in many of the scenes but not always having to command them.
It seems easy for her to give such a compelling performance. This reminds me of Morgan Freeman in the film "Seven." Freeman is the main character of that perfect movie yet when many people think of that film now he is more than likely not one of the top two actors you think of, behind Brad Pitt and, unfortunately, Kevin Spacey. This is because he does such a great job at being subtle in every scene and letting the younger actors be so explosive and energetic that it makes a perfect duo in terms of energy.
This is exactly what Blunt does in this role and in doing so she often lets her costars, who play her children, really attempt to make their names known. Noah Jupe is once again very strong as son Marcus and has some superb facial acting in a movie where there is extremely limited dialogue.
Jupe, at only 16 years old, already feels like one of the more credible new generation actors working. With roles in both "A Quiet Place" films, the 2020 limited series "The Undoing" and 2019's "Honey Boy" and "Ford v Ferrari."
But there are two standout performances here. Millicent Simmonds as daughter, Regan, who is deaf in a world where sound is the key to survival, is absolutely electric. Simmonds is deaf in real life as well and lends a sincerity and power to the role. Her communication with others using sign language and select and almost muted dialogue is really great and lets her show off a bit more than she was able to in the first film.
Despite Blunt being the top billed actor, there is an argument to be made that Simmonds is overall the main character. She has her own plot line that feels much more risky and grand, and she hits the ball out of the park.
The other standout performance from this excellent sequel is Cillian Murphy as Emmett, a man who was friends with the Abbott family prior to the invasion and has since lost his own family and now secludes himself from what remains of society. Murphy is a horror genre veteran at this point, getting his first big film role in "28 Days Later," 2005's "Red Eye" and can also be seen in 2007's "Sunshine."
These films in addition to his arguably most notable role as the closest horror-centric Batman character, Scarecrow in Christopher Nolan's Dark Knight Trilogy. Even if this was the first horror movie that Murphy was cast in, I have little doubt he would be anything short of striking. He is one of the most well-rounded and yet underrated actors working today. He shares many of his scenes with Simmonds in the main plot line, and these two share excellent chemistry that helps to make us believe that they were family friends prior to the chaos.
It's clear that Krasinski also knows that he has perfect casting in this movie because he never opts to put the monsters first and the character second. He still does an excellent job at making the audience feel that the monsters are actually a real threat – even more so than in the first interaction, but never chooses to have a CGI festival that could risk taking away from the relatable and likeable characters.
Now if there was something to complain about in this sequel the main one could be the ending. Without giving away spoilers of course, it is almost objectively less emotionally significant than the first movie. On top of this, it also feels a bit like a rug was pulled out from under the audience, and personally, I was not expecting the ending we were given to be the actual end.
This is another issue although a minor one that I have about the movie. It feels like it could have really elevated its greatness with an additional 10 to 15 minutes of runtime. Some aspects of the plot and certain scenes seem rushed and at a runtime of just over 90 minutes; I feel as though audiences would have loved just a few additional moments to enjoy.
Final complaint that may be purely personal is that it is a film that once you let sit for a few hours you start to think of questions that were never answered or facets of the plot that are intentionally brushed over to make the story easier to progress. I cannot iterate enough, though, that these are very minor complaints and that this film was an extremely great time.
If you hate jump scares in your horror films then this movie may frustrate you a bit, but all in all, from top to bottom, this movie is excellent.
Krasinski continues to showcase that he is a borderline expert behind the camera, and the combination of looming danger and a small and lovable cast of characters makes "A Quiet Place Part II" a front runner for best horror film of the year, and based of its near $50 million opening weekend at the box office, many others seem to agree with me.