Architectural Society Takes Road Trip To Bell Works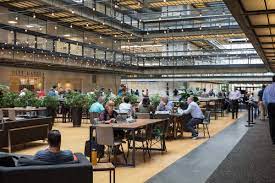 During its Oct. 28 meeting, the Architectural Society took a road trip to visit Bell Works in Holmdel, a shopping center and office building at the site of the former Bell Labs. Many tenants now occupy the space with mostly shops and businesses open to the public on the lower levels and offices, accessible to employees only, on the upper floors.
Arriving before the 11:30 a.m. meeting time, some club members talked to each other in the club's meeting room in CVA before the meeting officially started. At 11:30 a.m., president Carly Yarznbowicz began discussing Bell Works and the history of the complex. After opening in 1961, Bell Labs conducted research and development for the Bell System, but the building became abandoned in 2006. In 2013, Somerset Development LLC purchased it.
"You'll really like it. It's really cool," Yarznbowicz told club members before their visit. "It is big with a lot of parking lots."
Once the entire group was at Bell Works, they gathered at the main entrance. Together, they started walking throughout the facility. Yarznbowicz began to explain, "This was originally an AT&T building. It is now shops and offices. The building is largely made of glass."
As they were walking, the group proceeded to the back of the complex. Some of the members saw a hockey table and a collection of plants near an area with tables and chairs where people were going about their business. On the walls, there were various images and text explaining the history of Bell Works and Bell Labs.
After examining the contents of the plaques, Yarznbowicz further elaborated on the building's history. "It is a metropolitan suburb,'' she said. "In 1957 is when they started to build it. Bell Works was inspired by Bell Labs, which is what this building originally was."
When the group concluded their examination, they went to the outdoor deck in the back of Bell Works. They looked around the area and saw many things, including a fountain. The group also learned that many weddings are held on the deck of Bell Works.
"It's a place with beautiful architecture and it is very local," Yarznbowicz said, explaining why the club took the field trip. "It's important to show the group important history."
"I think it went very well. First-years and second-years experienced something new, and I am happy with this trip," the club leader said
The trip officially concluded around 12:30 p.m., at which time the group members split up and went about their day. Some of them left Bell Works, while others got lunch and explored shops on their own inside of the complex.
Other club officers in attendance included vice president Lusi Rossi, a 21-year-old architecture major from Manalapan, and social media manager Emma Weatherspool, a 21-year-old architecture major from Millstone Township.