Esports Are Coming To Brookdale, But The Team Is Shrouded In Mystery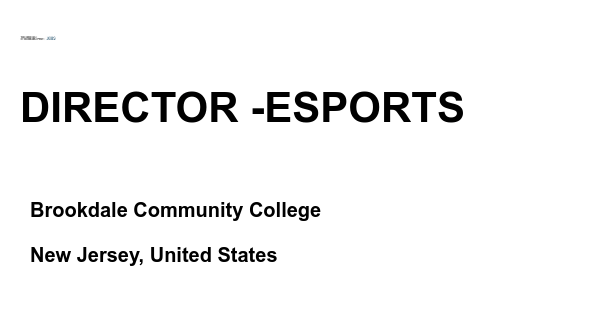 On Oct. 20, every Brookdale student got an email asking them to fill out a survey related to esports coming to Brookdale. Soon after, The Current sent an email seeking more information about Brookdale's esports plans. However, the response from the "esports team" is that this is not the right time to talk about its upcoming plans because, according to the email, "we are not quite ready yet.
The survey email said, "Esports is officially coming to Brookdale Community College! We have many exciting plans in the works that we can't wait to share with our students, faculty, and community members alike. Brookdale's arrival into the collegiate esports scene could not come soon enough as the Jersey Blues will make their mark in the competitive scene as well as provide a safe, inclusive, fully-decked out arena where gamers of all skill levels can spend their time on campus" and was signed "Esports team."
Searching esports and Brookdale Community College sheds little additional light on what is coming, where it will be located and when.
A search, however, did find a related job listing in the Chronicle of Higher Education, which states "The Director of Esports will oversee all aspects and serve as the sole administrator of the BCC esports program. The Director is responsible for promoting a comprehensive and sustainable esports program that advances the five pillars of competition, academics and research, community, entertainment and career development.
"The program should combine high-level competition against other colleges and universities; recruitment of academically eligible elite gamers; the operations of a training facility and arena; engagement with faculty to explore research opportunities related to video games; support of the BCC gaming community and addressing social justice issues related to games and esports; create live events and digital content around the program; connect BCC students to jobs and opportunities in the video game and esports industries and seeks external fundraising and scholarship opportunities."
"The Director will also oversee staff, coaches, the esports training facility, athletes, marketing, finances and event planning responsibilities associated with the program," states the advertisement, which lists the position as having a salary of $79,362 with benefits.
The survey asked students to share their opinions about having an esports team and on the games that such a team should play. To view the email survey, students can log into their Outlook email and type "esports" into the search bar to bring up the survey.