Student Club Earns Grant, Seeks Members To Help Spend It Properly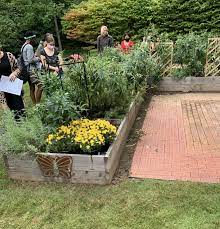 The Innovation Network (TIN) has received a Brookdale Community College's 2021 Community College Opportunity Grant to create and present health and wellness programs.
"TIN's, blossoming at Brookdale submission was rooted in social entrepreneurship and wellness," said Angela Kariotis, director of diversity and inclusion. "Meeting them at the involvement fair was important; I saw commitment, organization, ideation and comradeship. They are working in the field. Why wouldn't anyone want to be a part of that?"
"To date, we have had to do everything using very limited funds and often volunteer presenters, so being awarded this grant is extremely exciting," said TIN adviser Debbie Mura. "The funding will go toward providing meditation and wellness programs near Brookdale's new butterfly garden."
"The Monarch Waystation and Meditation Garden were designed, in part, to bring mental health and wellness activities to students," said Mura.
"I love TIN because it gives me an opportunity to be myself and talk about many problems in the world that a lot of people don't care about or pay attention to; it makes me feel like I have an active role in trying to make the world a better place," said Sarah Ayres, a 19-year-old criminal justice major from Manalapan and TIN's treasurer.
The recipient of Brookdale's Best Club Gold Star and Community Service awards, The Innovation Network (TIN) is a student-led organization where students spend their time outside the classroom working as a team, earning service-learning credits and developing communication, leadership and interpersonal skills. TIN is currently looking for students to fill leadership roles in marketing communications, graphic design and tech support.
Club meetings are on-site at the Lincroft campus or hosted via Zoom every Tuesday during college hour. TIN is actively recruiting new members and urges those interested to contact The Innovation Network at [email protected] or [email protected].