March 8 Tapping Demonstration Aims to Help Students with Stress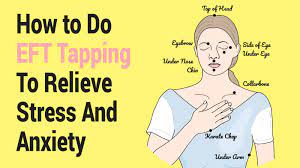 "If it were not for EFT, the student would have had to be taken to the nearest hospital," said Dinneen Jackson, a national board-certified health and wellness coach, describing how she helped a frightened student who was experiencing a panic attack.
Jackson, who is also Brookdale's grant coordinator, was on a Student Life bus trip when the incident occurred. "It was a most rewarding experience for me because I was able to use one of my favorite healing techniques, in an emergency situation, to aid a Brookdale student," Jackson said.
"Tapping, or Emotional Freedom Technique (EFT) is a powerful holistic healing technique that resolves a range of issues. It's based on the combined principles of ancient Chinese acupressure and modern psychology," Jackson explained.
Those issues can include chronic pain, emotional problems, addictions, phobias, post-traumatic stress disorder and more. Tapping is a set of techniques that utilize the body's energy meridian points. You can stimulate these meridian points by tapping on them with your fingertips – literally tapping into your body's own energy and healing power.
Jackson will share this powerful holistic healing technique as part of The Innovation Network (TIN) "Blossoming at Brookdale" series from 11:30 a.m. to 1 p.m., Tuesday, March 8, in room 107 of the Student Life Center. The event, which is free and open to all Brookdale students and staff, will include free giveaways.
Jackson feels that Brookdale students are under an incredible amount of stress. "The last two years have greatly impacted everyone's mental health. The good news is stress reduction is within reach. Tapping has been shown to have fast and long-lasting results on stress and anxiety."
After a brief introduction on the history of tapping, Jackson will share tips on how often to use tapping while helping students discover how to make tapping work for each individual.
"Some people practice tapping every day to regulate their nervous system, reduce anxiety, enhance their breathing or just because it makes them feel good," Jackson said. "Others use tapping only in emergency situations."
"There are no adverse side effects, and best of all, it is free, and you can do it yourself. You don't need a practitioner to tap," she added.
"Students can expect to come away feeling relaxed and in control," said Jackson of the March 8 introduction workshop.
"Blossoming at Brookdale" is an initiative launched by The Innovation Network club to provide free resources for students to improve wellness and interpersonal skills. During the spring semester, TIN will introduce complementary and alternative wellness modalities to help students manage stress and meet mental health challenges.
"Our interactive discussions will establish an understanding of complementary and alternative wellness techniques where practitioners introduce different modalities," said Jeanette Falotico, a journalism major and president of TIN. "Through this series of experiences, students will discover the connection between relaxation, peace, balance, and real results in fostering educational and career goals."
Upcoming events include presentations and workshops on self-hypnosis, aromatherapy: how to use authentic essential oils, Qigong for mental and physical balance, reiki, and grief, focusing on dealing with Covid loss, and more. All events are made possible through a Community College Opportunity Grant.
Are you looking for a club that gets things done and has fun doing it? TIN welcomes new members at any time. Meetings are hosted via Zoom every Tuesday during college hour. If you are interested in learning more, contact The Innovation Network through adviser Debbie Mura at [email protected].