YA Novel's 'Secrets' Should Definitely Be Shared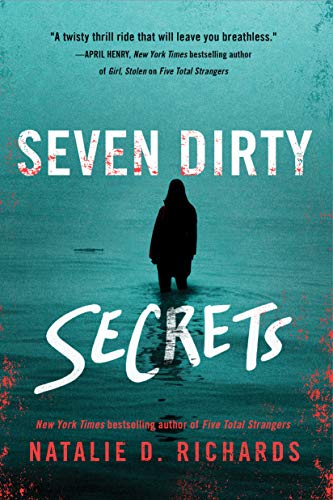 Looking for a new mystery and thriller novel that will keep you on the edge of your seat until the very last page? Look no further than Natalie D. Richards' novel, "Seven Dirty Secrets." A surprise scavenger hunt is left for Cleo on her 18th birthday. Cleo assumes her best friend, Hope, or brother, Connor, left this incredible gift for her, since they both know how much she loves these types of mysterious events. What could possibly go wrong? Plenty.
A mysterious box left on Cleo's sink during her shower, when she was supposedly home alone, leaves our protagonist uneasy. Cleo questions both Hope and Connor about this unexpected mystery box, but both repeatedly deny leaving the gift. After calling the police to scope out her house, it is clear that no obvious damage was done to break into the house, and no harm was done within the home. Cleo is left to believe that someone she knows, and knows her home, had to have accessed her home in a kind manner in order to leave her this gift. But who?
After opening the box, a piece of paper with a riddle sets Cleo and Hope on a scavenger hunt throughout the town. However, they only have until Monday by 2 p.m. to solve the hunt, or else a secret will be revealed. After arriving at the first location, it becomes clear that this scavenger hunt is anything but fun and lighthearted. It is connected to the relationship between Cleo and her recently deceased boyfriend, Declan, who died on a whitewater rafting trip in West Virginia exactly a year ago Monday, the day the hunt's timeline ends. This is when Cleo realizes that someone knows what exactly happened on that trip, and the deep secrets she refused to ever reveal.
One year ago, a group of friends — Cleo, Hope, Connor, Valerie, Adrien, Jack and Declan all take a trip to a whitewater rapid river in West Virginia to go camping and rafting in celebration of Cleo's birthday. During this trip, Declan fell from a cliff and drowned in the river, never to be found again. Seven people went on this trip, yet only six returned. In fact, one person caused the fall. One did nothing. One had seen it all. One didn't care. One used their head. One played the hero. And one was left for dead. But who is who? And more importantly, who set up this horrifying and unsettling scavenger hunt?
Every single clue within this eerie scavenger hunt is connected to Declan and Cleo with things only the two of them would know. So, the question that remains is: Did Declan really die on that trip? And if he did, who is putting Cleo through this traumatizing experience? How do they know the intimate details of Declan and Cleo's relationship?
Only six people are known to be alive who were there on that trip. One of them has to know more than they are letting on. As the clock winds down, Cleo is sure that someone from the trip knows she must get to the end of this challenge. She knows that one of her so-called "friends" knows what truly happened to Declan on that cliff, and she will stop at nothing to find out who and keep her secrets hidden. This novel does a fantastic job at leaving the reader anxious through every single chapter. Page after page, you are left with another surprising event that occurred, another secret revealed, as well as more questions that need answering.
Personally, I could not put this book down and finished it within a day. I was still left wanting more, as I did not want the story to end. I was left in shock as the answers about that heinous night came to light. I highly recommend this young adult thriller to anyone who enjoys the genre and loves a good, shocking ending.
Natalie D. Richards does an excellent job at allowing the readers to visualize the scenarios with great detail, as well as feel deeply and emotionally connected to each of the individuals involved. Richards leaves you on a rollercoaster of emotions throughout the journey of Cleo. You will feel heartbroken, devastated, infuriated, confused, protective and apprehensive throughout every single page. WARNING: This novel does contain graphic content involving domestic abuse, which could be a trigger for some individuals.