Civility Week Event Highlighted Liberators Who Became Leaders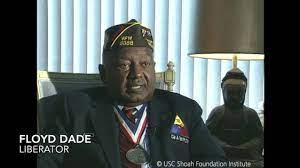 "We fought together, we bled together, and we died together, but we could not live together," said Floyd Dade, an African American who served in the U.S. Armed Forces during World War II.
Dade's testimony was part of Chhange's Civility Week program, hosted by Executive Director Dr. Sara E. Brown. Brown highlighted how African American soldiers used the lessons they learned in the Army and applied it to the civil rights movement.
Dade described the reality of life for African American soldiers as they liberated survivors of the Holocaust and Nazi-occupied Europe.
"On the battlefield we were side by side – on top of each other, protecting each other in the same foxhole," Dade said.
And then, when the battle was over the white soldiers would go one way, and the Black soldiers would go another.
When asked how the white soldiers he fought with felt about the African American soldiers, he said they helped each other, protected each other, and promised when they got home to write to their representatives and the president, and tell them this racism and humiliation in the Army must end.
Dade was determined to educate the world about the proud contributions of Black tankers who fought honorably during World War II. He also wanted people to know the horrors of what happened during the Holocaust. He explained his motivation:
"To me, these are memories, but now, this is history. If we don't remember this, it will happen again."
The second video speaker was Dr. Leon Bass. Bass also served in a segregated battalion and experienced oppression and humiliating treatment from the white officers.
In April of 1945, he helped liberate the Buchenwald Concentration camp in Germany and described the state of those he found there as the "walking dead."
When Bass returned to the United States he enrolled in Westchester University, the first in his family to do so.
"And then I discovered that the face of evil was in Westchester," he said. "It was in the town. It was in the campus. It was everywhere."
Shortly after registering, Bass discovered that, as a Black man, he couldn't live in the dormitory.
"It's hard to describe my feelings. I had done so much. I laid my life on the line, gave three years of my life to the military, and here I'm being denied what I was fighting for."
Bass went on to earn his doctorate from Northeastern University. He became a fifth grade teacher and eventually a principal and traveled with Dr. Martin Luther King.
Bass shared that because of his activism in the civil rights movement, he had been in jail in almost every state in the country, as a fighter for racial equality.
The final video presentation was testimony from Elizabeth Holtzman, who, as a young attorney, was sent to Atlanta, Georgia. She was strongly discouraged by her employers from pursuing her goal of supporting wrongly accused African Americans in the justice system.
"They really didn't want me there, and told me every single story about violence against civil rights workers," she said.
"I was shaking inside and thought, am I going to be killed?"
Holtzman spent her first night in the home of a Black family, and it changed her perspective. "If I leave, who will stay and fight to end this terrible situation in the South?" she thought.
So rather than be discouraged, Holtzman realized the importance of allyship and using her privilege to benefit others. She would go on to become an advocate for criminal justice reform.
Holtzman continued her civil rights advocacy and was elected to the House of Representatives in 1972.