N.J. Funeral Planned For NFL Quarterback Dwayne Haskins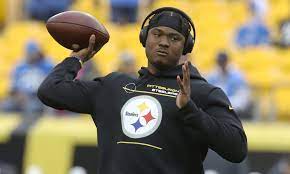 While working out in Florida with teammates; Pittsburgh Steelers quarterback Dwayne Haskins was killed at the age of 24. Haskins was trying to cross Interstate 595's westbound lanes on April 9 at the time of the tragedy. He was struck and killed by an 18-wheeler; further information and details on the accident have not yet been revealed.
"He was a man trying to become the best version of himself, just like we all are. He was excited to continue to compete for his dream, and I know as well as those closest to him that his best years on and off the field were ahead of him," said Washington Commanders wide receiver, Terry McLaurin, via Twitter. The two were teammates at Ohio State and with Washington.
"I spent your final moments with you, and I can't help but think about how selfless you were in those moments. All you cared about was making sure that everyone around you was okay and I can't thank you enough for that. You are what I strive to be," said Pittsburgh Steelers wide receiver, Chase Claypool. The two spent the 2021 season as teammates.
Haskins grew up in Highland Park, N.J. He had fallen in love with football; in particular Ohio State Buckeye football. A video has surfaced of a young Haskins on a tour of the school. Early on in his life, he made it clear where he intended on playing his college ball.
He had started his tenure as the Buckeye quarterback in 2016 where he redshirted. (didn't play) He came onto the scene two years later. In 14 games in the 2018 season, Haskins had 4,831 passing yards, 50 touchdown passes, and a completion percentage of 70 percent. He was a Heisman finalist who used this breakout as a springboard for the NFL draft.
With the 15th pick of the 2019 NFL draft, the Washington Redskins selected Haskins to be their franchise quarterback. The reality of life in the NFL hit the young quarterback quickly. Despite being 22, a multi-billion football team put their trust in him to turn around and guide their franchise.
After two seasons with Washington, Haskins signed a deal with the Pittsburgh Steelers. With 2021 being the last season for Steelers stalwart Ben Roethlisberger, Haskins had a high chance of being the team's starter in 2022.
On Saturday, April 16, Ohio State honored their late alum at the annual spring football game. The team and 60,000 people in attendance held a moment of silence; players had his initials on the back of their helmets. Current Buckeye quarterback, C.J. Stroud wore "Haskins Jr." on his nameplate on the back of his jersey.
Three services are planned for Haskins. A celebration of his life on April 22 in Pittsburgh. A funeral the next day at Christ Church in Rockaway Township, NJ. Then, on Sunday, a vigil at his alma mater, Bullis School, in Potomac, Maryland.