Esports, Competitive Gaming With Incentive, Come To BCC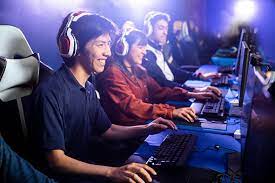 "Esports is when a group of people who play a video game team up and play in tournaments against other teams to win money," said Nick Carcich, a 21-year-old political science major from Wall.
Gaming tournaments have been around for some time, but it wasn't until around 2019 that esporting really became a global phenomenon. As technologies advance, so does the entertainment it provides. Esports is just another door technology has opened for people to make money and bring people together, much like physical sports have done for years.
"It is the same as any other type of sports team. Today there are many types of games that qualify for esports. These games include Counter Strike Global Offensive (CSGO,) Tom Clancy's Rainbow Six Siege, Fortnite, and League of Legends. All of these games consist of four to five players," said Carcich.
"We have big plans for Brookdale Esports that range from inter-collegiate competition with our own Varsity Jersey Blues Esports teams in games such as Rocket League, Valorant, and Super Smash Bros. (just to name a few,) all the way to being able to just pop in and play at your own pace in between classes and even on the weekends," said Chris Boehmer, director of esports.
With esports on the rise, we are seeing colleges adapt to these interests and form teams of their own.
"Collegiate esports has grown rapidly in the past few years with colleges all over the country adopting a program. Brookdale has seen all the benefits a successful esports program can provide for our students and community members, and has enthusiastically supported the implementation of our own," said Boehmer.
"Rutgers University I know has an esports team. A college with an esports team might influence young students who want a job in the field of video games, like creating or even playing and need a degree to pursue it. Colleges should think about offering esports because it is becoming a new job field and they could benefit from it," said Carcich.
At Brookdale, all students have the opportunity to join the esports team and learn how to play all different types of games. This is a great introduction to esporting for those interested in a career in computers or esports.
"Brookdale is renovating Student Life Center room 109 to be a fully decked-out esports arena," said Boehmer, consisting of 24 high-end gaming PCs, 6 of which will be housed on a competition stage, three console stations each equipped with a TV, Xbox Series X, Playstation 5, and Nintendo Switch. Three old-school style arcade cabinets, VR station, and full broadcast booth/production suite."
The club is still in the process of getting everything in line and starting Fall 2022. The esports team will be available not only to Brookdale students, but also to members of the community.