Bingo Brings Students Together For Fun And Prizes
Student Life and Activities held its second Bingo Night on Oct. 12 at the Collins Arena. The night commenced at 6:30p.m. with food and some music. Bingo night is not just about games and fun; it is an opportunity for students to make memories and socialize.
"I come back because I think Brookdale Bingo has a lot of memories for me. I'm not allowed to win anything so don't worry, I'm not stealing anyone's prizes. I miss everyone, and it gives me a chance to actually talk to people for a few hours. This school has a lot of memories for me," Emily Maxim, a Brookdale alumni said.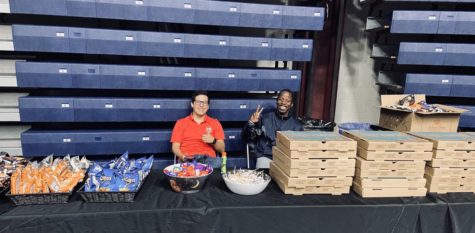 There were many different prizes for winners including Asburyopoly, AMC movie tickets, Brookdale swag, as well as gift cards.
Some students also took bingo night as an opportunity to display their creativity. Some students came in with their "bingo" hats and in no time, other students joined the trend.
"I feel hype! This is awesome. I just won something in bingo for the first time this semester. I feel great!" said Magnus Sanchez, a 20-year-old undecided major from Keansburg.
Bingo night is also an opportunity for other clubs and services to speak to students and tell them more about their clubs. Brookdale's Career, Leadership and Transfer services took advantage of October's bingo and held a "test your career knowledge raffle." Students who answered questions correctly won prizes such as Brookdale bags, mugs, winter accessories and more.
The room was filled with cheers throughout the night.
The next Bingo event will be Thanksgiving-themed on Nov. 9.