Clubs Seek Volunteers Nov. 3 To Help Make Menstrual Products Accessible
Making free menstrual products available to Brookdale students became a priority for two Brookdale clubs, Women in Learning and Leadership (WILL) and The Innovation Network (TIN), last February.
"We all met up and distributed products to the restrooms," said Sara Hosbach, a liberal arts major and president of WILL, who noted the two clubs are gathering volunteers this week "to repeat the process."
"We hoped the administration would follow-up and continue the initiative," Hosbach said.
                                                        Students taking part in last semester's distribution.
On Thursday, Nov. 3, WILL and TIN members are asking students and staff to join them from 11:30 a.m. to 1 p.m. in the WILL Academic Program Office, LAH 218, to gather donated menstrual products and distribute them throughout the restrooms on campus.
"We brought the issue of needing menstrual products in the restrooms to the board's attention in February and were told the products would be distributed to students in a few weeks," said Jeanette Falotico, TIN's president, and a journalism major.  "I can't believe we are still buying baskets, going building to building, and doing this ourselves."
"Menstruation products are, for many students, a challenging expense," Hosbach said. "When WILL and TIN provided free products, students expressed their gratitude to me when I refilled the baskets."
Jessida LaCalamito, a member of WILL and TIN, echoed Hosbach's sentiment. "These products are now ridiculously expensive. I bought a box of pads at the Scroll and Pen bookstore, and they cost $9, and I only needed one pad."
A journalism and photography major, LaCalamito does not drive. "The bookstore is only open till 4 p.m., but I am always on campus later than that. If I got my period unexpectedly later in the day or night, I'd be stranded."
The clubs worked hard to find sources willing to donate the products. While the initiative was successful, the effort is not sustainable, so the clubs brought the issue of supplying these basic health care items to the Board of Trustees.
Last spring, the administration did make products available through Helping Hands on campus, but the basic needs pantry's hours are limited. Additionally, many students who need the products are unaware of their availability as there are no signs in the bathrooms notifying those in need.
Upon hearing students' concerns repeated at the Oct. 25 board meeting, President David Stout said the administration will again search for more solutions to make the products more readily available.
Journalism Professor Debbie Mura said she tries to pick up menstrual products from Helping Hands and stock the restroom near her office in ATC.
"It would be great if we could do better than having faculty and staff members adopt each of the bathrooms. But if it's decided that is the only solution, then that initiative needs to be publicized and encouraged among staff," she said.
"Honestly, it would seem the most logical answer is to provide the products to those who stock the bathrooms with toilet paper and paper towels. I understand that this is not currently part of the contract with the vendor but that could be negotiated," Mura said.
"The availability of products to menstruating students must be prioritized," Hosbach said. "Students' health is important, and by providing these products in convenient locations like restrooms and/or central, easily accessible locations, it shows that Brookdale cares."
"Please join WILL, TIN, students and staff on Nov. 3 at 11:30 a.m. in Larrison Hall, room 109, as we help Brookdale's students obtain these products when and where they need them," Falotico said.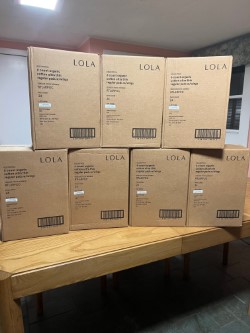 Boxes of menstrual products ready to be distributed. Photos by Isabel Shaw