Students Prove They Can ThinkFast For Cash
What will Brookdale students do for a cash prize of $100? Apparently, a lot of things, including lip-synching, acting, dancing and answering all kinds of trivia questions. And, watch out, the faculty may even try to slip in and win.
During college hour last Thursday, Nov. 3, students and staff filled the tables of Navesink I, II and III in the Student Life Center to try their luck at ThinkFast, a trivia and talent game that ended with two students being awarded cash prizes.
People came out to have fun and try their hand at winning the cash. They also enjoyed a free catered lunch provided by the Student Life Board that included salads, sandwiches and cookies.
The first winner of ThinkFast was disqualified because he is a faculty member. Chemistry Professor Eric Goll said he was told he could play but wouldn't be allowed to win, but "never expected to win."
Goll continued to play the game after announcer, Johnny Cameron from Orlando, Florida, disqualified him. That is until Cameron took his remote away.
Out of three contestants chosen at the end in a final round, the two winners were Juvintino Lopez, 19, a undecided major from Freehold, and Jack McGrath, an 18-year-old communications major from Middletown.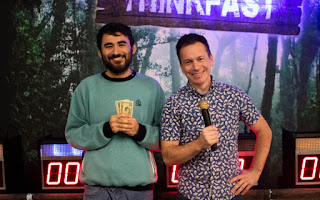 McGrath said he couldn't believe he won. "I'm going to buy a bunch of trading cards and food with this," he said.
"We were super excited to come out here and happy you guys had us," Cameron said of coming to Brookdale to host ThinkFast.
Assistant Director of Student Life Erin Tierney said Brookdale generally offers the game show annually.