Students Partied To Prove They're 'Better Together'
Photos by Jessica LaCalamito, Staff Photographer
"It feels pretty great to win the raffle," said Gianna Vega, a 20-year-old liberal arts major from Eatontown after winning one of many prizes at Friendsgiving on Nov. 17. "You know, I came here expecting to just socialize with everybody and enjoy the Thanksgiving spirit, so just winning, that was just the cherry on top."
The event saw many clubs and students gather at the Student Life Center Navesink rooms during college hour to get together and engage with other students on campus.
"I am here today because honestly, I don't know about much of the events that are always here, so I am just mainly networking right now and trying to make friends," said Anasia Taylor, a 19-year-old journalism major from Asbury Park.
The event was organized by The Innovation Network (TIN) headed by the president, Jeanette Falotico, and vice president, Isabel Shaw, with the aim of bringing students together and promoting the theme of "better together."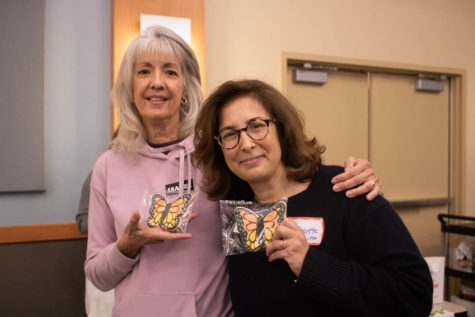 "Jeanette and Isabel are both part of WILL and they brought it to my attention that the initiative was also better together, and we strongly believe in that. Brookdale is better together so we wanted to be involved," said the president of WILL, Sara Hosbach, a 20-year-old liberal arts major from Freehold.
Students showed up at the event for different reasons.
"I think Friendsgiving is really important to PTK because PTK is all about bringing people together from all aspects of life and all different parts of education," said PTK's vice president of service Samantha Lucy, a 19-year-old music major from Cliffwood Beach.
Some students came to support their clubs. Officers of the Phi Theta Kappa (PTK) who were in attendance gave reasons why Friendsgiving is important to PTK. "At Brookdale we are working on making sure everybody feels like they belong here, so these events like this make people feel like they belong at Brookdale, which is something we are working with Dr. Stout on, the mentorship project," added Vice President of Leadership Christina Urbano, a 20-year-old education major from Monroe Township.
"Adventure Bound said we are going to be having an event with food and music, and I was like I would try it out and maybe get some food for free. I think it's a good event with a bunch of people either you don't know or you do know, you can just sit down and eat food and whatnot as you enjoy the whole Thanksgiving theme," said Mickey G., a 20-year-old nursing/business major from Howell. Students were also motivated to come to the event to take advantage of the free food.
Friendsgiving was also an opportunity to give to people and show that there is more to students than academics. Some gave through their time and service whiles others like the president of the Engineering club, Francisco Aguirre-Ponce, gave by cooking. "I brought penne vodka pasta. I made it myself with the help of my dad of course. I think I am a good cook, but I don't really like cooking," said Aguirre- Ponce.
There were many games and activities for students to participate in.
The event ended in the spirit of Thanksgiving with students making a mental note of one thing they were grateful for as they held hands to show their togetherness. Brookdale is better together.