'I Want To Make People In My Country Smile. That Is My Dream'
"Moving here on that status as an international student was a big step. I grew up a lot in maturity
and other things. I find myself here without any close family," said Jean Guerdy Paul, a 24-year-
old from Ocean.
Jean Guerdy Paul, also known as J.P., was born in Haiti where he lived until September 2018 when
he moved to the United States to further his education. He was admitted into Brookdale
Community College, where he is studying to become a mechanical engineer.
"When I got here, I didn't have to worry about housing. I had dealt with that before I moved
here," said Paul.
"Hardest thing I will say getting used to, was the U.S. culture and the New Jersey weather."
When asked about the struggles during his first years of being a student in the United States, Paul
said "I didn't have a car. I was getting here (Brookdale) by public transport. It was hard. The bus
took like an hour and 30 minutes to get to the school, and I was always tired even before I got to
school."
That was not the only challenge for Paul during his first years, one major challenge was the language as he came from a country where English was spoken by the minority. "When I was in my country, I spoke Haitian Creole and French. I did have a base in English: grammar and writings. The English-speaking part was not great. I had to take an ESL class and a type of public speaking class for international students."
Looking back on his journey over the past four years, Paul said, "I definitely believe that the
regulations on international students should be lighter in terms of taxes, how to find a job,
housing, paying for school and resources."
Paul shares that Brookdale was helpful in some respects, but he wishes that they taught
international students more about the systems.
"I really got a lot of information about insurance from the school but not necessarily how to use
it." Paul also speaks on the difficulties he has faced while filing taxes and hoped Brookdale would
create a program to teach about filing taxes. He shared this with Dr. David Stout, president of
Brookdale college, at the recent student Speak out on Nov. 22.
Right now, Paul works with Brookdale's Student Life and Activities as a student ambassador. "I
work with Lauren (Brutsman) and Erin (Tierney) as my directors. I help them with any type of activity that Student Life
wants to do on campus. I give people information either in person or through phone calls about
the college. I hang posters around campus for upcoming events and club information," Paul said.
Even though Paul says his life is more stable now, he explains that there are still so many things
he misses from Haiti.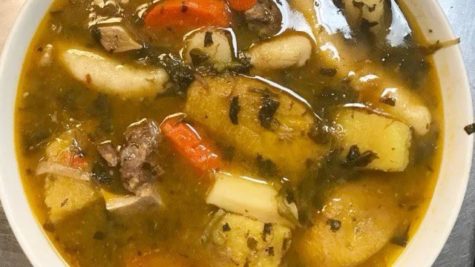 "I miss the food. I love Bouyon Kabrit. Before food, family for sure.
Everyone in my family and my friends are there. I had a community that I was involved in and
left behind: the beaches, and everything good my country has to offer."
"I am planning to go back. I haven't gone back because my country was in turmoil and riots. My
parents did not want me to come during that time," he added.
Although Paul misses Haiti, he has found things in the United States that keep him going.
"I would definitely say the community I am a part of is the best. Not everyone has that luck or opportunity where although everything is not perfect, you are valued, and people are willing to push you forward even though you may be a stranger."
Paul finds himself reading and exercising in his free time. These are the hobbies that he
enjoys. "I like reading a lot, spiritual and personal growth books," said Paul. Back in Haiti, Paul
loved to be a disc-jockey (DJ) in his free time at house parties.
Asked about what changes he would like to see for future international students, Paul said, "One
thing I would like to see more of is if a student is trying to push himself, I feel like they should
be granted a program where the U.S. government would take care of their higher education."
Paul continued that such people will be very beneficial to the United States if given the
opportunity.
Paul hopes to go back to Haiti, see his parents, sisters, as well as friends and other family.
Speaking about his biggest dream, Paul says, "I want to see myself giving back to my
community when I get back to my country. I want to make people in my country smile. That is
my dream."