The 'Sweet' Catharsis of 'Kimberly Akimbo'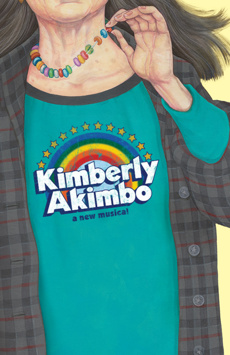 Originality had failed to return to its reserved seat on Broadway until "Kimberly Akimbo" arrived.
Actually, it would be unfair to say that originality has not shown its face at all this year on Broadway. There have been original musicals, original plays and original "takes" stacked up to the ceiling. What "Kimberly Akimbo" does differently, is its belief in the seriousness and unseriousness of tragedy. In a world plagued by tragedy after tragedy, Kimberly Akimbo reminds us of things that, well, to quote the musical, "Make our shitty lives better."
The musical itself is digestible and easy listening. The score resides somewhere between contemporary pop and rock. But it's best amalgamated through the phrase a woman used in front of me on the way to the bathroom at intermission, "Sweet."
What else can be expected from Jeanine Tesori, the most decorated contemporary female theatrical composer. In Akimbo, Tesori's signature melodic use of gradual builds and grand harmonies are the ingredients to the score's sweetness.
There are extremely bold moments in the score; most of which are reserved for moments of stark comedy, which saves the "soft" moments for more emotionally vulnerable moments. This would usually be a recipe for thematic neutrality. In Akimbo, this is a recipe for cozy easy listening. The lyrics, provided by Pulitzer prize-winning David Lindsay-Abaire round out the score swimmingly. Though the lyrics lack complex metaphors, they make up for it in their blatant tenderness.
The book penned by David Lindsay-Abaire is the crown jewel of the musical. You wouldn't believe you'd have much in common with a 16-year-old with a degenerative disease that ages her about 50 years. But the universal silliness, heartbreak, and embarrassment, that fill adolescence make it impossible not to connect with the protagonist.
The supporting characters are not only hilarious but fleshed out in their own right. A narcissistic mother longing to turn back "Father Time," an addict father wanting more, and an aunt with a proclivity for major crime. "Seth Weetis," the love interest, is written to teenage perfection. He is awkward and cagey, and yet nothing but original.
There is not one weak link in Kimberly Akimbo's star-studded cast. Victoria Clark (Kimberly Akimbo) has never performed stronger. She delivers her soprano melodies with such passion, that even the most bored audience members couldn't ignore her. Her deliverance as a 15-year-old with a degenerative illness is so believable that several audience members sitting beside me gasped when she fell to the floor. As if she were truly dying. She is giving nothing less than 100 percent.
Kimberly's parents, Buddy and Pattie Levaco, are portrayed by Steven Boyer and Ali Mauzey. The dynamic they create on stage is embarrassing, heartbreaking and cringe-worthy, which is something the material not only needs, but sorely deserves.
Boyer does an excellent job as the overbearing, underperforming father. He delivers disappointment after disappointment, doing so with a smile and a beer in his hand. In my experience, nothing but the truth from him.
Mauzey is delivering a performance truly to be studied. Her portrayal of a arcissistic, delusional is done with great detail. For most of the show, she walks around with a cast, due to her character's numerous "injuries." Mauzey makes excellent use of this and provides some of the show's best comedic moments with her blazing physical comedy. But it's in her ability to deliver the emotionally draining "anti-parent" that makes her someone to watch.
Bonnie Milligan (Aunt Debra) is Kimberly Akimbo's quarterback, pinch hitter, and all other sports references one can muster. Not only is she getting thunderous applause night after night for her stunning vocal talent, but the laughter she receives is roaring. Both solo numbers "Better" and "How to Wash A Check" stop the show in its tracks. Bonnie Milligan's star will only rise, and there's no one more deserving.
Justin Cooley makes his Broadway debut as Seth Weetis, a wordy, nerdy, and altogether pubescent mess of a love interest. Cooley's lack of experience is not noticeable at any point in the show. His ability to channel the cringe-worthy nature of a teenager is excellent. His physicality is shaky and shy, his words stunted and mumbled. Cooley delivers teenagehood on a platter, with a buttery baritone voice to match.
"Kimberly Akimbo" is one of the best original pieces to hit Broadway in the last five years. It has heart and soul, and acne on its face. It is the relatable hug that theatrical audiences have been craving. It is nothing less than a contemporary masterpiece, and it deserves every accolade it receives. If I were a Tony voter, I would place all my bets on Akimbo.