90.5 The Night: Are You Listening?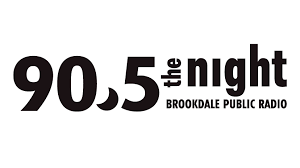 Brookdale Community College continues to grow its public radio station, 90.5 The Night, as the channel has now reached four streaming platforms; FM radio, HD radio, any computer and almost all mobile devices. The Night has now been streaming for almost 50 years, aging back to its development in 1975.
Brookdale's station got its name from their popular rock segment "The Night " back in the 90s, that would stream rock hits past 7 p.m. Since then, the team has bounced names around for the station and decided "The Night" was too great to leave for a segment. 90.5 The Night has been the name ever since.
The station has grown tremendously since its start in the 70s, with a diverse playlist streaming all day. "As a fan of music, I really appreciate the variety of music we play," said Tom Brennan, manager of "The Night" and adviser for the Student Radio & Podcasting Club at Brookdale. "Just a second ago, we
finished playing a song from the band Air from the late 90s; now we're playing Tame Impala, and next up is Nathaniel Ratliff & The Nightsweats."
Due to the station's public broadcast, 90.5 has no commercials, leaving time to stream music all day.
Their selection of songs are what keep audiences tuning back in.
"Lots of people listen to us because the music we play is not what's heard on other radio stations," Brennan said. "We introduce lots of great new music to folks as well, and our music-loving audience appreciates that."
While 90.5 "The Night " is an NPR member station, there is an additional student-run station that audiences can tune-into online at brookdalestudentradio.com. It's here that Brookdale students can really explore their abilities as broadcasters.
"I am able to experiment and try new things on the air that I might not be able to do elsewhere," said Scott Pendall, president of the Brookdale Student Radio and Podcasting Club. "Most weeks I play new music that I'm excited about and try to talk about it in an intimate and conversational tone. Other times, I have done live interviews, comedy bits and sound collaging." The radio station is a great opportunity for students to gain experience in broadcasting and podcasting.
"Tom Brennan…he's an industry veteran and such a valuable resource for questions I've had about equipment, programming, and everything else that goes into doing a radio show," said Pendall when asked about his experience with the station, "It has given me to try new things, fail, learn and gain confidence being on the air. It has been an experience I will keep with me long after I graduate."
The Student Radio & Podcasting Club hosts meetings the first Thursday of every month at noon in ATeC 002 for any student interested in learning more about "90.5 The Night" or broadcasting and podcasting.
Tune in and listen to "90.5 The Night" on any of their four platforms and support Brookdale's station as it continues to be one of the community college's greatest achievements.