Devils, Rangers Among NHL Playoff Hopefuls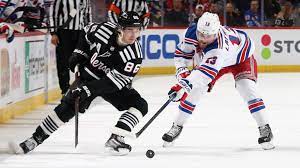 The highly anticipated NHL playoffs kicked off this past Monday and the matchups are set.
The eastern conference consists of the Boston Bruins vs. Florida Panthers, Carolina Hurricanes vs. New York Islanders, Toronto Maple Leafs vs. Tampa Bay Lightning, and New Jersey Devils vs. New York Rangers.
In the western conference, we have the Dallas Stars vs. Minnesota Wild, Edmonton Oilers vs. Los Angeles Kings, Colorado Avalanche vs. Seattle Kraken, and Las Vegas Golden Knights vs. Jets.  
"The matchups for the playoffs are pretty intense so far. I think most of the series' in the first round could go to seven games," said Michael Garguilo, a 21-year-old marine biology major from Hazlet.  
The highlight of the regular season heading up toward the playoffs out of the eastern conference is the Boston Bruins winning the President's trophy and finishing the season with a whopping 135 points. Some key teams in the east that didn't make it to the playoffs this year were the Pittsburgh Penguins and Washington Capitals. Both teams have made the playoffs until 2006 up until this year.  
In the eastern conference, a key match to watch is Devils vs. Rangers as their highly anticipated and heated rivalry continues into the playoffs. The two teams have been going at it for years, and the matchups between them are always fun to watch. Jack Hughes and that first line have been the highlight for the Devils this season. Question is: Can they use that momentum and score against the Venezia trophy finalist Igor Shesterkin? 
"There's little to no rivalry in hockey quite like the Devils and Rangers. Not only is it because they border each other, but each team has beaten the other on their roads to success over the past 30 years. For the Devils to win, all they have to do is play their style of hockey; skilled, fast, keep it five on five, and don't get caught up trying to out-hit the Rangers," said Mark Lazzaro, a 24-year-old undecided major from Hazlet.  
The western conference was filled with all types of shocks with some key teams not making. The Calgary Flames and St. Louis Blues being the teams that you would've thought would have punched their ticket to the playoffs this year, but both teams came up short.  
A key matchup to keep an eye on in the west is the Avalanche vs. Kraken because it's the Kraken's first playoff appearance since being an expansion team a year ago. The Golden Knights were the last expansion team to make it to the playoffs since being brought into the league back in 2017. The Kraken look to win their first playoff series in franchise history. 
The NHL playoffs are going on now, and they are being aired on TNT, ESPN, ESPN 2, ABC, and TBS.