Consider A Musical PowerTrip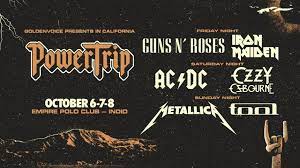 The just announced "PowerTrip" music festival may make you want to plan a trip to the Empire Colo Club, Indio, California.
The three-day music festival starts on Oct. 6 and includes such bands as: Guns N' Roses, Iron Maiden, AC/DC, Ozzy Osbourne, Metallica and TOOL. This is the first time the festival is happening in seven years when artists Paul McCartney, the Rolling Stones, Bob Dylan, Neil Young, the Who and Pink Floyd co-founder Roger Waters, and The Who performed in 2016. 
Guns N' Roses and Iron Maiden will be performing the first day, AC/DC and Ozzy Osbourne will perform the second day, and finally Metallica and TOOL will close out the festival playing on the third and last day. The bands all posted the same post on all social media platforms last week to give out hints to fans as there was suspicion lingering who was going to be on the lineup this year. The full lineup came out a couple of days ago.  
The main headline in this line-up is Ozzy Osbourne. The 74-year-old has been an ongoing concern with health issues, and he even announced his "retirement" from music. He was supposed to go on a solo tour this summer, but he had to postpone it to take care of his health. Fans hope that he doesn't retire and that he can perform once again while being healthy.  
Sharon (wife of Ozzy) confirmed that Ozzy indeed planned to return to the stage. "If there's a festival here and there that he wants to do, then he will do that," she told Talk TV.  She also mentioned that "it's just long tours he won't do anymore." 
Another couple of things to take note of is that Iron Maiden will be bringing the highly anticipated "The Future Past" tour to the United States. This would be the first show in the United States for this tour as the band will be in Europe. Metallica will also be promoting its new album "72 Seasons" that comes out in a few months. Finally, AC/DC will be playing its first show in over seven years. Fans have been waiting a long time for that one. 
"This lineup that they've presented us on social media is great! I feel like a lot of older people will try and grab tickets because they would want to see most of these acts before they're gone, especially Ozzy and Iron Maiden. I want to hope that Ozzy will be able to perform even though he's suffering greatly, but I have a feeling he'll drop the festival and sales will go down because of that. Ozzy is a timeless act that not many people have had the honor of seeing because of his condition with his past with drug abuse," said Izzy Gordon, a 20-year-old undecided major from South Amboy. 
There are also several ticketing packages for the three-day festival. Most of it's general admission, but there's limited seating. Tickets can be purchased in different tiers, as the lowest general admission ticket is $600 plus fees and the highest general admission ticket is around $1,800 plus fees.  
A total of 16 hotels are featured and sponsored by the festival. They are located right by the festival, and they can be purchased with general admission packages. Shuttles will also be provided from the site to the hotels.   
Tickets can be purchased at: https://powertrip.live/tickets/#general-admissionLinks to an external site.