Softball Team Swings Toward The Playoffs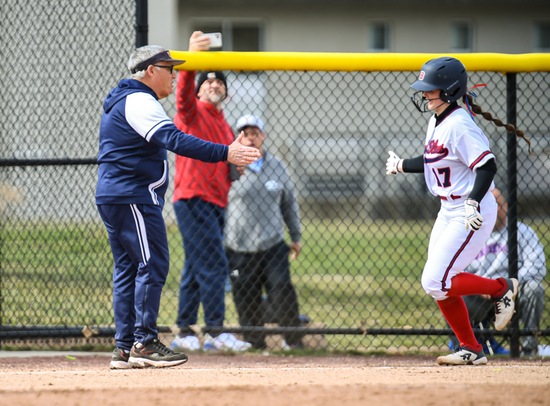 The Brookdale softball team's record is 25-7 this season. 
"Every game, practice, workout session, and meeting slowly starts to prepare us for the playoffs. Now that we are getting toward the end of our season, we are trying our best to win every game we play, so we have the home-field advantage during the playoffs," said catcher and third-baseman Zoey Hagan, a 20-year-old business management major from Atlantic Highlands.
The playoffs are not too far ahead down the road for the Jersey Blues. 
"We had lofty expectations, good recruitment, and third in the nation last year. We have the same record after 18 games as last year,"  said Coach Thomas "Bo" Scannapieco, 69, from Jackson. "Offensively we struggled a little bit but still have many games to go.  Currently, we are No. 2 in the nation in national polls." 
 Scannapieco is certainly not surprised with the team's performance to start the season.  Brookdale swept Bergen Community College on April 25 by a score of 12-0 in game one and 14-1 in game two. 
The softball team had a slow start to the season, but they figured things out quickly.  
"I think the team started off a little shaky, but that's normal for a team with many new girls. As soon as we started practicing and spending some time together, outside of the softball environment, we all started bonding more. I would like to think that the team has gotten close so far during this season and continues to bond," Hagan said.
"I always tell them to play hard, have fun with it, and trying to teach life lessons is important for me. I always try to incorporate a life lesson when something positive or negative happens as long as we play hard and maintain our focus. Always make it a positive and fun experience for them," Scannapieco said. 
Even down the stretch, Scannapieco goes by a certain philosophy, and it is to always have fun and play hard.
The Jersey Blues will next play the Cougars at Camden County College in a doubleheader on Thursday.  The game times are scheduled for 3:30 and 5:30 p.m.