Thrifting is good for the environment; donating is better. Clara's Closet, a completely free, on-campus thrift shop, offers a chance to do both.
"We aim to give back to the community and help break the cycle of poverty," said Fatima Carranza, 27, of Red Bank, who has been running the Brookdale "store" since it opened last January.
Thanks to the existence of this community closet, Brookdale students who need to add some warmer items to their wardrobe now that fall has arrived or who have job interviews coming up have a free place to shop.
Located in MAN 214, Clara's Closet has a wide selection of new and used clothing, jewelry, shoes, ties, etc. Nike, Vans, Champion and Uggs are all among the brand names easily spotted throughout the store.
Returning regulars, Florensa Saneti, 18, of Long Branch, and Regna Acedera, 18, of Ocean, who browsed through the racks and displays Tuesday, Sept. 19, both described Clara's as a "nice place" to shop. That day, Saneti was checking out a plum-colored, straight leg corduroy pants, while Acedera eyed black oversized baggy pants and considered tailoring them at the waist for a better fit.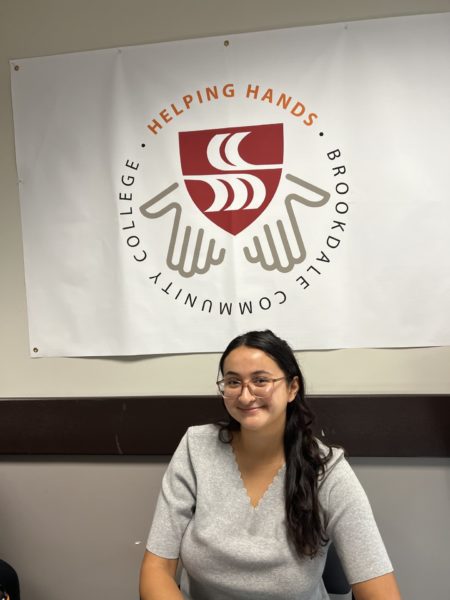 "Between the ambiance, the trees and the large windows," Clara's offers a pleasant shopping experience, said Carranza, who said students can choose up to 10 items during each visit and are welcome to come every week. Store hours are 10 a.m. to 1 p.m. Tuesdays through Thursdays, with extended hours to 5 p.m. on Wednesdays.
"We have had the opportunity to help lots of students find all kinds of apparel they need," said Carranza, the organization's resource navigator. "The students have come by and shared their stories with us and have been excited to learn about what we have to offer."
Clara's Closet is a partnership between Brookdale and Lunch Break, a Red Bank-based nonprofit that has been providing food, clothing, life skills and fellowship to those in need for 40 years.
"That is cool that we can get 10 free items," said Ryan Esdaile, a 19-year-old undecided student from Manasquan, who was among several students on campus who said they didn't know about Clara's Closet. "I will consider stopping by."
"I have been to Clara's Closet once, and there were a lot of women's clothes and not a lot of men's clothes," said Zachary Gent, a 22-year-old nursing major from Middletown.
Those searching for specific items, even formal attire for weddings and proms, can email Carranza at [email protected] with their needs and sizes or they can call her at 732.747.8577, ext. 3016.
"Clara's Closet sounds good for back to school," said Ryan Deegan, a 19-year-old student from Brielle, who also noted it would be "great for gift shopping."
To find Clara's closet, students set out on what might be called an Alice-in-Wonderland journey. There are signs throughout MAN with arrows directing shoppers where to go.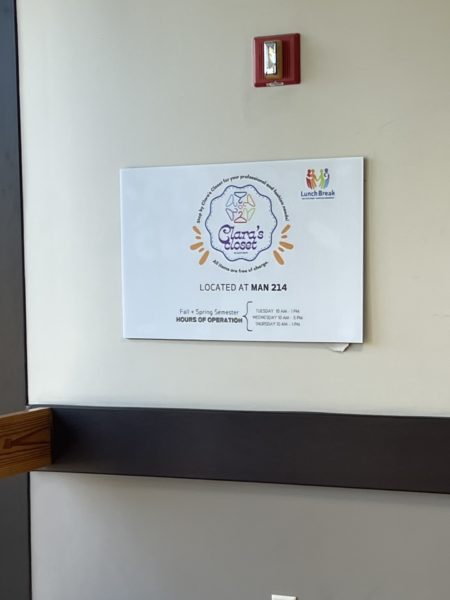 Photos Above By Sasha Gorelik
The store's location has changed over the months, but the current spot on the second floor of MAN is convenient because it is "closer to the elevator," Carranza said.
Clara's Closet is named in honor of Clara Marie Nelson, who volunteered at Lunch Break for 20 years and served as the first clothing coordinator.
Those wishing to donate to Clara's Closet should not bring their items to Brookdale. Rather, donations are accepted at Clara's Closet's Red Bank location at 10 Drs. James Parker Blvd.
Photos Below By Gabby Ramirez