Students Wendy Rivera, a psychology major from Matawan, and Bobby Payne, from Howell, explore an exhibit at the T. Thomas Fortune Cultural Center in Red Bank.
On Friday, Nov. 10, Brookdale students learned about T. Thomas Fortune through a new local exhibit, "The Black Press: Stewards of Democracy."
The students were invited into the elite world of the Black Press via the T. Thomas Fortune Cultural Center in Red Bank. The powerful members of the Black Press – newspaper publishers, journalists, courageous writers and skilled photographers – organized and fought to be recognized and respected and to gain economic justice.
The students were given a private tour of the center by Gilda Rogers, executive director of the T. Thomas Fortune Cultural Center and an adjunct history professor at Brookdale.
"T. Thomas Fortune is someone who is not averse to conflict, questions authority and breaks the rules in his personal and professional life," Rogers said.
Timothy Thomas Fortune, known as T. Thomas Fortune, became one of the most influential American journalists and newspaper publishers of the 19th and 20th centuries.
Born into slavery in Florida in 1856, Fortune grew up in post-Civil War America. His father, Emmanuel Fortune, was a Reconstruction politician in Florida's Assembly, and Fortune became a senate page at 13. He also worked as an apprentice printer.
The Ku Klux Klan terrorized and targeted his politically active father, forcing his family to move from their home and ignited Fortune's passion for social justice and civil rights.
In his 20's Fortune moved to New York City and soon made a name for himself as the editor of the weekly paper that eventually was known as The New York Age. Fortune was a gifted writer and orator whose impassioned editorials highlighted the suppression of Black voting rights, condemned lynching and demanded civil rights for all Americans.
"He was an uncompromising figure," Rogers said. "We hear that term 'speak truth to power.' He did it."
Besides being a prolific author and poet, in 1887 Fortune started the National Afro-American League – the first successful black political organization, bringing together Black leaders who worked together finding ways to engage with the politics of white America. This organization became the forerunner of the NAACP.
Fortune's legacy as a trailblazer had been lost to history and the cultural center explores his role in bringing together prominent voices of his day.
"It is ironic that Fortune was this leader and organizer, and nobody has heard of him," Rogers said. "He is one of those hidden figures who opened the door for everybody else."
That everybody else included prominent writers like Booker T. Washington, W.E.B. Dubois and Ida. B. Wells. Wells joined his newspaper after the Ku Klux Klan burned down her Chicago newspaper offices after she reported on multiple lynchings.
When Fortune moved to Red Bank in the summer of 1901, his arrival was front-page news. "Mr. Fortune is one of the most noted colored men of the country," the Red Bank Register reported.
But, almost a century later, the Fortune family home that was named a national historic landmark in 1976, stood empty and crumbling. It was going to be demolished until a group of preservationists and community members, including Rogers, came together to raise the money to buy the home. They were successful and now the T. Thomas Fortune Cultural Center carries out his legacy of activism and community involvement.
Additional exhibits in the center include the contributions of another famous Black resident, jazz musician Count Basie, who was born in Red Bank. A Love Letter to Count Basie: From The Great Migration to The Harlem Renaissance explores the extraordinary life of this groundbreaking and talented musician.
An upstairs area showcases the Parkers, a family of Black doctors, dentists, and educators, who moved to Red Bank after World War I. One generation removed from slavery, James W. Parker Sr. (1888-1973) graduated from Howard University Medical School in 1915 and his two brothers later became a pharmacist and a dentist respectively. Dr. James Parker, Jr. became the first Black physician on staff at Monmouth Medical Center in 1955.
Against inconceivable odds – socially, economically, and politically – the Parker family set an example for generations to come, including distinguished military service, educational acumen and successful professional careers in the wake of Jim Crow America.
The center offers professional development for teachers, and school groups visit each month. There are outdoor concerts, book signings, a lecture series and an online magazine.
Hours of operation: 1 to 5 p.m. Saturdays and Sundays with the exception of special events.
For more information:
https://www.tthomasfortuneculturalcenter.org/
T. Thomas Fortune Cultural Center
94 Drs. James Parker Blvd.
Red Bank, NJ 07701
732.383.5483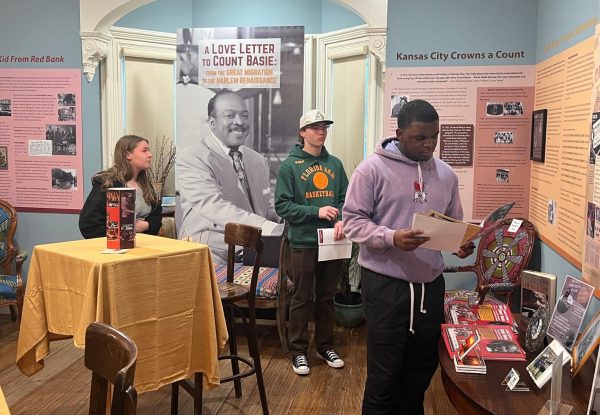 Students Arianna Wilson, a history major from Millstone, Matthew Gray, a criminal justice/social science major from Sayreville, and Jackson Forsyth, a graphic design major from Brick explore the center's Count Basie exhibit.