One-Woman Play Illustrates Holocaust's Long Shadow Over Generations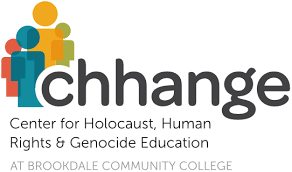 "History is a continuum," said Sari Boren during her one-woman play, "Exhibiting," which she performed on Jan.  27 at Brookdale in the Navesink rooms at 7 p.m.
In commemoration of 75 years after the liberation of the Jews from the German concentration camps, Chhange (the Center for Holocaust, Human Rights and Genocide Education) invited her to put on her emotional play. Boren, is a writer and museum developer born and raised on the Jersey Shore, is also the daughter of two Holocaust survivors.
Her play which ran like an emotional and dramatic Ted talk or academic speech is a heart-wrenching play of Boren's struggle of finding where she fits into the history of her family. She questions the linear concept of time and timelines. In almost every museum and history class, a neat timeline of events leading up to a climactic moment in history is displayed. Boren has a problem with timelines as she discusses in her play. History isn't neat and several events from various different situations can influence any event.
In Boren's play, she plays herself as a museum developer giving a talk on the essential question while giving a critique on the 9/11 museum. She soon becomes agitated and compares a lack of an essential question guiding the 9/11 museum to her most recent trip to Berlin with her mother at the opening of a new exhibit at the Memorial of Murdered Jews.
Her mother had been invited to speak because the exhibit opening was about the mass shooting of Jews in her hometown of Mizoch, Poland, located in current-day Ukraine.
Boren flips through pictures of her mother pointing out pictures of her with her family before the war next to pictures that German and Nazi soldiers took of themselves killing the Jews, her family, and neighbors. In Berlin, Sari Boren was face to face with family members that she never got to know and here they are a part of an exhibit. Artifacts to be handled, "bridges to the past," as Boren called them. Her mother and father were now artifacts and bridges to the past but one that was becoming too painful for her face.
As the play went on, you watched as Boren bares her soul as she went from describing how as a child she made a scrapbook of Jews being murdered by Nazi soldiers and it being an unemotional, matter-of-fact thing to her getting older and not being able to handle the subject and the piece of history that she grew up with.
The essential question became, "What changed?"
"I became old enough to see my parents as children," Boren said. She asked her mother, "When did I know about the Holocaust?" and her mother told her, "you've always known." Boren had always had access to this great wealth of knowledge. She was related to living artifacts bridges to the past, so why was she so upset and feeling helpless when her mother was OK with talking about the past and even being in Berlin looking at the pictures of those murdered and their murderers.
"I wanted to live my life without his pain," Boren said about why she didn't ask the hard questions about her father's time in the concentration camp and why she cannot read his published memoir. The older she got the younger her parents got in their stories, and she felt helpless in rescuing them. This made her worry about future generations and how were they supposed to learn the history that she could not bear to face.
"I still have to put in text that slavery caused the Civil War," Boren told her audience during the play. She couldn't wrap her head around how people still didn't understand that concept. This unconceivable-to-her concept made her wonder if down the line there will be still some people saying "Six million? It couldn't have been that many," or "there couldn't have been that many children murdered. Their mothers were probably neglectful," or "They were probably killing each other," or "they willingly went into the ghetto." She worries that her parents' childhood experiences will be trivialized and watered down in the same way?
With a wavering voice, Boren concludes with her father saying that his book was written for her and her brother, which made her feel guilty because she cannot read it but a part of her is relieved because she doesn't have to bear the burden of remembering alone any more.
"He said he wrote it for us, my brother and I, but I think he released us."