Jimmy Fallon Hosts The Tonight Show: "At Home Edition"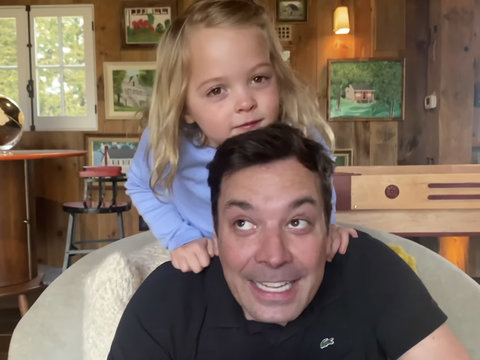 In the face of a global pandemic, Americans all over the country are desperately seeking some normalcy during this incredibly anxious time. Although it seems as if the only thing to watch on television are news updates on COVID-19, the late-night talk show host, Jimmy Fallon of The Tonight Show is giving his audience at home something else to watch.
The Tonight Show normally broadcasts live from Rockefeller Center in New York City on weeknights at 11 p.m. and features comedy sketches, celebrity interviews, and musical parodies. However, due to the worldwide outbreak of the coronavirus, The Tonight Show how has canceled its live shows until further notice. As people across the globe remain quarantined, Fallon has found his own way to make sure his audience can continue to watch The Tonight Show, regardless of the current pandemic.
In the comfort of his own home, Fallon released the first episode of The Tonight Show: "At Home Edition" on March 17. During that episode, Fallon shared with his audience that he was going to find a way to film his show and provide America with the laughter that is necessary during this incredibly stressful time.
As promised, Fallon has uploaded 8 shows to The Tonight Show's YouTube channel and frequently stars Fallon's daughters and his beloved golden retriever, Gary. During each episode, Fallon performs his familiar opening monologue and comedy segments while his wife, Nancy Fallon, stands in as camera operator. The "At Home Edition" series has gained massive popularity as thousands of audience members send thoughtful messages to thank Fallon for his positive energy.
Fallon has also interviewed several celebrities, during each show, on the widely
used video conferencing platform, Zoom. He has interviewed celebrities such as Lin-Manuel Miranda, Jennifer Garner, J Balvin, Trevor Noah, John Legend and Alec Baldwin. All of which are promoting different charities such as Feeding America, Broadway Cares, Save With Stories and Meals on Wheels.
Due to the awareness that The Tonight Show: At Home Edition has raised, each
charity has received a tremendous amount of donations. The charity that Fallon had
promoted during his first episode called Feeding America, a charity that runs a network of food banks nationwide that feeds over 46 million people each year, has received $49,459.
Although it is unclear when the world will return to a state of normalcy, Fallon has
stated that in order to stop the spread of COVID-19, people must remain quarantined along with him. For now, Jimmy Fallon continues to put his audience at ease as he reminds them of the importance of happiness and a good sense of humor.
Check him out here
Jimmy Fallon at Home Edition