TIN's Friendsgiving Event Draws More Than 50 Participants
The weather was cooperating when The Innovation Network (TIN) sponsored a pre-Thanksgiving "Friendsgiving" event at Brookdale Community College on Tuesday, Nov. 23.
The gathering was attended by approximately 50 students who enjoyed the "Pie Day" theme. Apple pies (graciously made by Elana Maloney, a faculty member in the English Department,) pumpkin pies, cherry pies, and pizza pies graced the fall-themed serving station outside the upper level of the Student Life Center.
Emphasizing mental-health awareness, TIN provided pocket-sized laminated cards providing stress-reducing tips and suggestions on how to cope with challenges. The group also provided handouts describing student mental health and wellness resources. These services include 24/7/365 emergency services offered by Monmouth Medical Center Psychiatric Emergency Services and 2nd Floor Youth Helpline.
Students won prizes and Thanksgiving-themed treats as they participated in games, led by TIN President Jeanette Falotico. These games tested students' knowledge of the campus and the many resources available to them. This included information about recovery meetings, telehealth clinics, counseling, support offered by the Brookdale Police, and the TalkCampus app, providing anonymous 24/7 peer-to-peer support.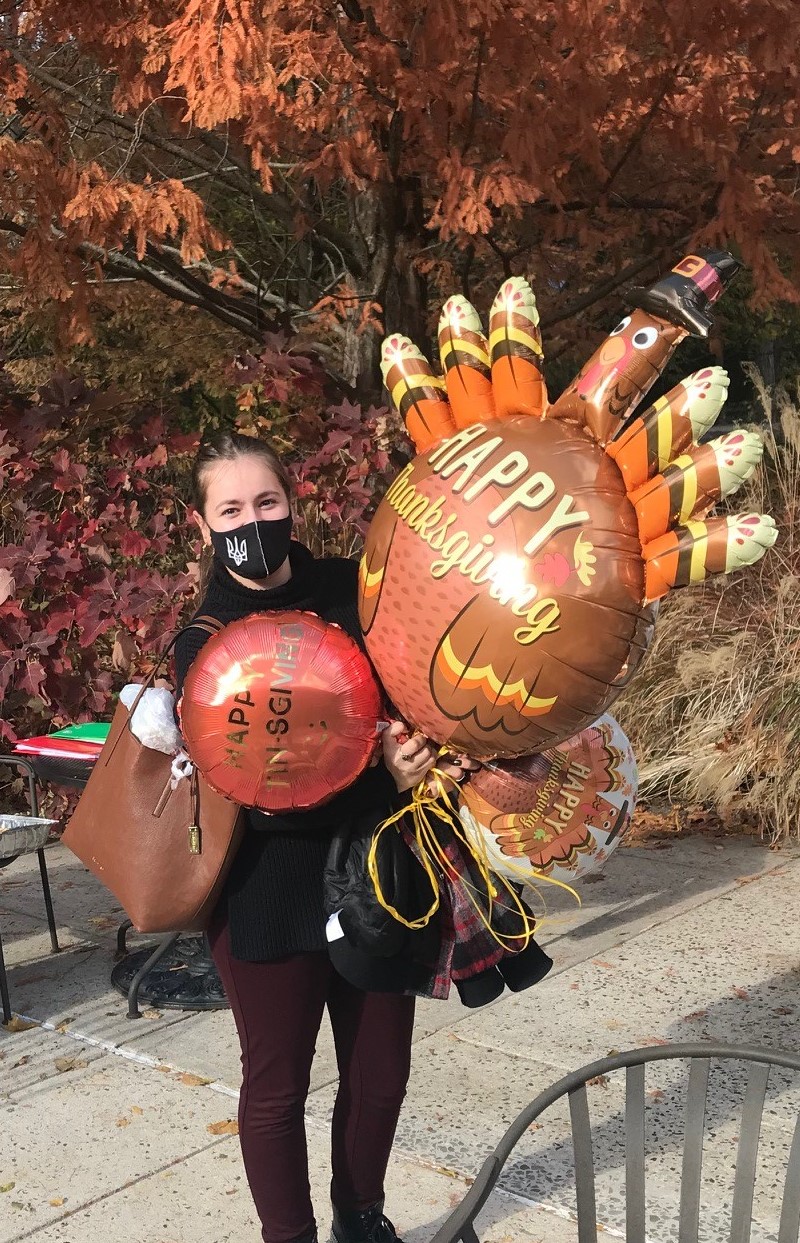 TIN was honored to have Marlena Frank, M.S., Associate Professor of Psychology at Brookdale, speak to the group. Frank's theme was gratitude and she led participants through several exercises explaining how to both experience gratitude and share gratitude with others.
Acknowledging that family gatherings can be a source of stress, especially when dealing with opinionated loved ones, Frank shared how "savoring gratitude," the practice of directing one's attention to a pleasant event, can help diffuse and perhaps even prevent an unpleasant reaction on Thanksgiving Day.
"Savoring is simply finding something to be grateful for in that moment," Frank explained. "It could be anything – the smells of the food cooking or the taste of the delicious pie or dessert – savor that sensation of taste and choose to experience and focus on that."
Another exercise had the participants open their phones and text an expression of gratitude to someone for whom they are grateful in some way. Once completed, a student shared how when he told his friend he was grateful for his friendship, the friend was also grateful and happy. Frank responded: "And this is how shared gratitude works – the giver is thankful and expresses it, and the recipient is now happier and appreciates the gesture." She ended by asking everyone to take these lessons home with them and practice gratitude this holiday season.
All attendees received a free raffle ticket and near the end of the event, a drawing was held for one of three gift baskets, assembled by TIN's secretary, Rebecca Sayilik, helped by Sarah Ayers, TIN's treasurer. The lucky winners took home baskets filled with treats, school supplies and delicious candy.
Two pies from TIN's Friendsgiving event were put aside and given to Student Life Center's Mary Jo Burkhard. Burkhard is both a Brookdale alumnus and U.S. Navy Veteran, having served for 11 years as Radioman Petty Officer Second Class. Burkhard, the First Vice-Commander of the American Legion Post 266, will donate the pies to the American Legion for Thanksgiving.
A police officer who was working in the area was the recipient of a remaining pie to share with his fellow officers at their Brookdale station. He was both surprised and grateful for the gift.
Falotico thanked everyone who attended Friendsgiving and reminded participants that TIN meets every Tuesday at noon, either by Zoom or in person by their recently created Monarch Waystation and Meditation Garden, outside the lower level of the Student Life Center. Falotico said the club is unique in that "We think globally, act locally, and help students have a voice in addressing issues that interest them."
"I'm so happy to have joined TIN," said Maloney, a club adviser. "You all make it so fun, and I love the way you get things done!"