Women's basketball team tackles one goal at a time this season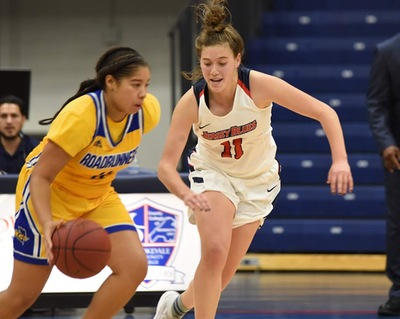 This is head coach Rich Brunson's third year coaching the women's basketball team after being the assistant coach for the men's team for five years. Because Brunson, who was a Division 1 scholarship player for Rutgers from 1979 to 1983, has basically a whole new team with little experience returning, he wants his team to be focused.
Since most of his players are new, Brunson and his players need to adjust to the new system in place and puzzle everything together for what offense to run. His team goals start small, focusing on taking it one practice at a time and improving each time, but get much bigger, ending with going to nationals.
      As a coach, he tries to improve himself each year as well. This year, he wants to improve the outlook of the women's program by taking it to new heights.
Every year is a learning experience, and based on his eight years of coaching at Brookdale, he knows what it takes to get players' scholarships. He has helped
about seven men and three women players get scholarships and five of his former players played in the NBA.
Brunson's favorite part of last year was when one of his all-Americans broke the all-time scoring record. Another was making the championship game even though some players were later deemed ineligible. After last year's championship run, the women's basketball team looks to bounce back for another deep run.
This offseason, the team has been doing many workouts and open gym practices. The team has been running miles on the track and did weight training like arm curl and squats. Brunson doesn't want to have the players swollen or pulling muscles, but he wants them to have muscle tone.
There are currently 12 players on the team: three freshmen and nine sophomores. The team is made up of mostly small forwards and centers, so it needs to get some more guards.
The team added new players Anna Catanzaro and Alexis Holloway. Catanzaro is a post player, and this will be her first year at Brookdale. She is more of a defensive player since she has long arms and is very wiry. Holloway will be helping with the point guard position. There aren't that many guards on the team, so having her will help.
The team is undefeated at 10-0 and has been winning most of their games in blowouts this season.
Sophomore guard Haley Dalonzo, who is a Saint Peter's transfer, has added to this team the offense they needed. Dalonzo scores on average 20 points per game. She recently just came from the soccer team, which went to nationals.