COVID-19 Update from Around the World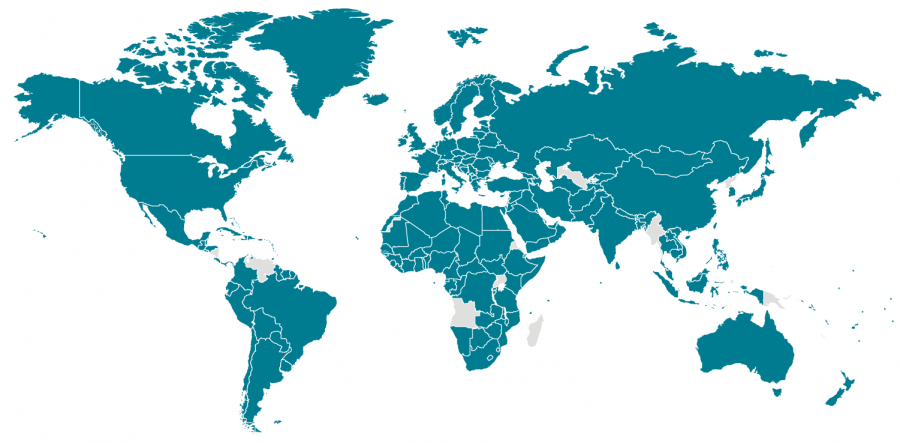 Staff Writers
April 24, 2020
Australia: According to the Australian Department of Health, as of April 16, there are 6,468 new cases of COVID-19. There have been 63 reported deaths with an average of 52 new cases reported every day. Out of the 380,000 cases that have been conducted, 1.7% of those tested have been positive for the coronavirus.
Brazil: Yahoo News reported on April 15 that Dr. Valdilea Veloso is in a race against time procuring supplies and preparing for a surge in new cases. President Jair Bolsonaro has condemned the warnings as "hysteria," which has caused the people to ignore health officials' advice to stay at home. Current models suggest that Brazil will be the hardest hit in Latin America and are projecting to run out of ventilators as early as April 28. One study suggesting that the municipal health system faces collapse by April 19 if social distancing measures are not taken seriously and in drastic measures. In the state of Sao Paulo, they are expecting 111,000 deaths in the next six months. which is nearly equal to the current world total. They also have the least amount of people practicing social distancing at nearly 47 percent. Many hospitals in Brazil are nearing or at the brink of collapse such as the Amazonian state which has one 50 bed hospital to serve a state that is four times the size of Germany. It also houses many communities of Indigenous peoples who have a history of being severely affected by new diseases.
China: After the growing skepticism about China's data and figures concerning the coronavirus Wuhan has released new information. The major city revised its death toll showing 50 percent more deaths than were previously recorded. The new data now includes deaths that were recorded in the earlier days of the virus and deaths that were not properly recorded. The questions surrounding the accuracy of China's numbers remain. The C.I.A has reported to the Whitehouse that China's numbers are still 'vastly understated." Japan has recently pledged to help communities move their businesses from China because of the countries concerning reliability and transparency.
Ecudor: According to The NY Times, Ecuador is experiencing a high death rate of the COVID-19 virus. Guayaquil, the business center of the country has seen the most cases of the virus. There is disbelief in what the death toll is provided by the government, since the hospitals and cemeteries have been overwhelmed with patients and bodies. The numbers are incorrect because those who test positive either dead or alive are counted as COVID-19 victims. The government has collected the burial of 1,900 bodies from Guayaquil homes and hospitals that is a 5% increase. People haven't been strict on the lockdown rules until now because many of the city's poor continued going to work or looking for something to eat. The International Monetary Fund predicts a bad recession for the country
Iran: Currently in Iran the death rate has surpassed 5,000. Iran is one of the middle eastern countries hit the hardest. Iran is another place starting to reopen some businesses. Currently there are a total of 80,868 cases confirmed. There have been 5,031 deaths and 55,987 people have recovered. The country has partially just reopened its capital as this month's infection rates have hit its lowest point.
Italy: According to worldometer.info, Italy now has a total of 165,155 cases of the virus and 21,645 confirmed deaths. They like other countries, are nervously walking the line between lockdown to contain the virus and reopening to ease the economic repercussions. According to several staffers for NBC News, Rome and other cities are easing out of lockdown, which is making even business owners tasked with reopening nervous. Not only do some believe it is still too early to reopen and could be a public health risk, but others think managing the costs incurred to reopen won't pay off. Italy has recently been surpassed by the U.S. for most deaths from the virus. Italy has begun transferring antibodies from recovered patients to others struggling against the virus according to CNN.
Japan: Japans total number of cases is now at over 7,500. They have 143 total deaths due to the virus. Majority of people in Japan continue to go to work as usual despite the virus. Many Japanese people have expressed their displeasure with the way Prime Minister Shinzo Abe has handled the outbreak.
Mexico: According to the San Diego Union-tribune, as of April 10, med students and doctor residents of a hospital from Mexico city said that 26 of them have tested positive for Covid 19 and are demanding PPE and better training for all the people working in the facilities. Mexico accounts more than 3,000 positive cases and around 200 deaths. Most of the people who have tested positive have mild symptoms like fever and cough that disappears in 2 or 3 weeks. However, the elderly who have tested positive present sever symptoms and ultimately cause their death.
Spain: About 300,000 people who are considered non-essential were allowed to return to work and walk around Madrid on Monday, a spokesperson for the capital city's regional government told CNN. Bookshops, dry cleaners and shops selling baby clothes were allowed to reopen Tuesday under the government's latest decree. Shops, bars, and other business considered non-essential remain closed, however. Prime Minister Pedro Sanchez said the country will take "progressive" measures to return to normal life. The President of Catalonia said in a video statement that the allowing of people to return to work is "irresponsible and reckless."
Switzerland: According to Tass News Agency, as of April 13, there are 25,280 positive cases in Switzerland, to go along with 885 deaths. The number of positive cases of COVID-19 have declined in the past few days, as there were only 280 positive cases yesterday, compared to 400 and 552 the days prior, respectively. A state of emergency is in place across the country currently, as stores, markets, restaurants, movie theaters, etc., are all shut down. The Switzerland government has plans to ease the restrictions on April 26.