Involvement Fair Draws A Crowd
Photos by Jessica Lacalamito
Many students took the opportunity to explore the extracurricular activities and clubs Brookdale offers at the fall Involvement Fair held outside the Student Life Center Thursday, Sept. 15.
Among those representing the LGBTQ club at the fair are Ira Raz, 20, majoring in radiology, Alex Mock, 21, majoring in education, Morgan Riedinger, 18, majoring in criminal justice, Amy Maggipinto, 20, majoring in psychology and Ace.
Brookdale offers more than 40 clubs and activities to satisfy a variety of student interests. However, joining a club does more than satiate a student's needs for a hobby or pleasant pastime, clubs give students the chance to meet new people with similar interests and a place to engage in thought-provoking, or just fun, conversations.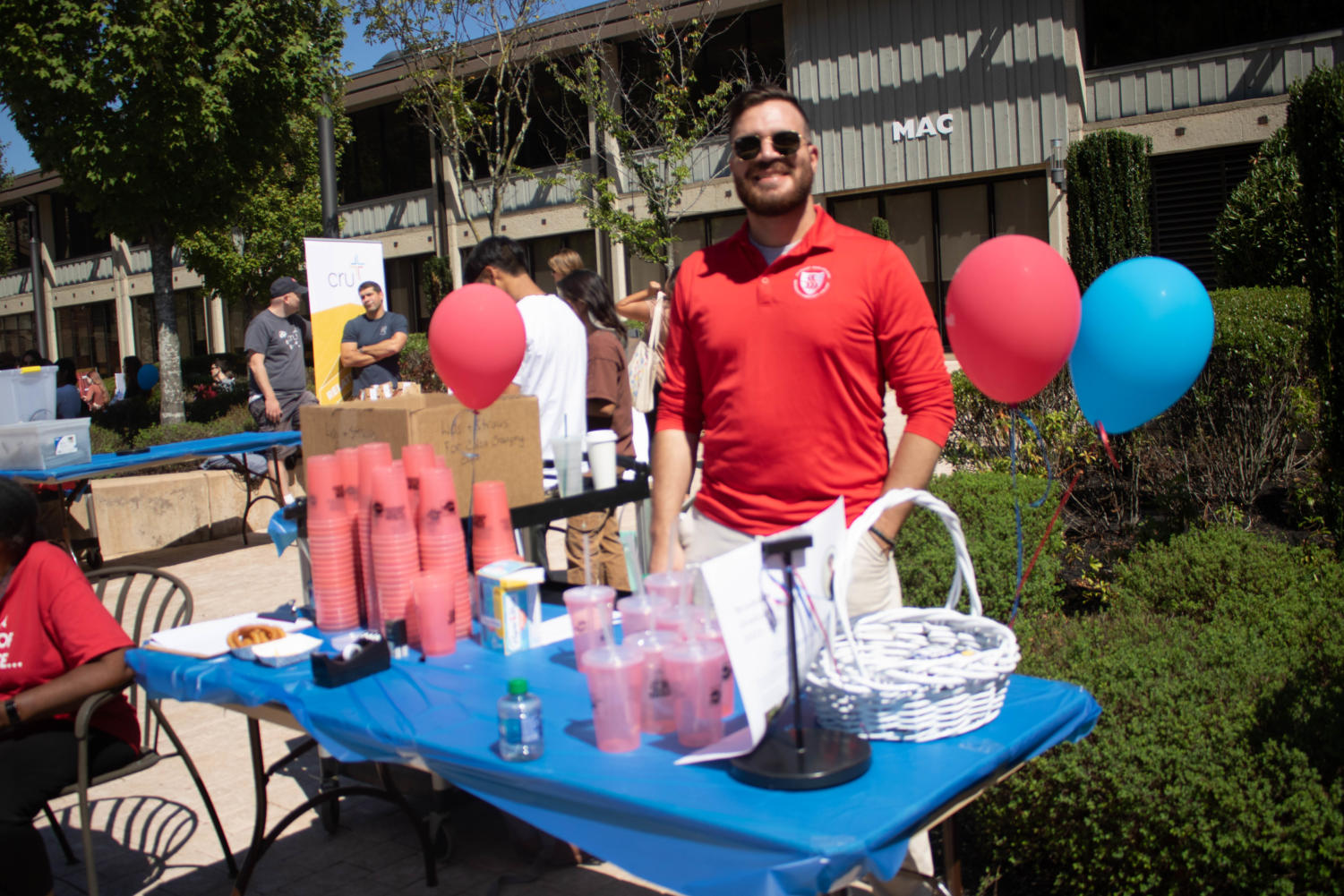 Student ambassador Christos Nicolaou helps out the fair.
"Coming from my area, it's always important to showcase on your resume that you're involved with a lot of different things, as employers would always want to see an engaged student," said Bill Kelly, assistant director of Career, Leadership, and Transfer Pathways at Brookdale. "I'm always an advocate for, 'Past behavior is the best predictor of future behavior,' and future employers know that."
This semester's fair held outdoors on a sunny summer afternoon was extremely social. While some students signed up for the wide variety of available clubs, others avoided that commitment while enjoying free food.
Some students were meeting and socializing with new people while others sang or danced to classic tunes a DJ played.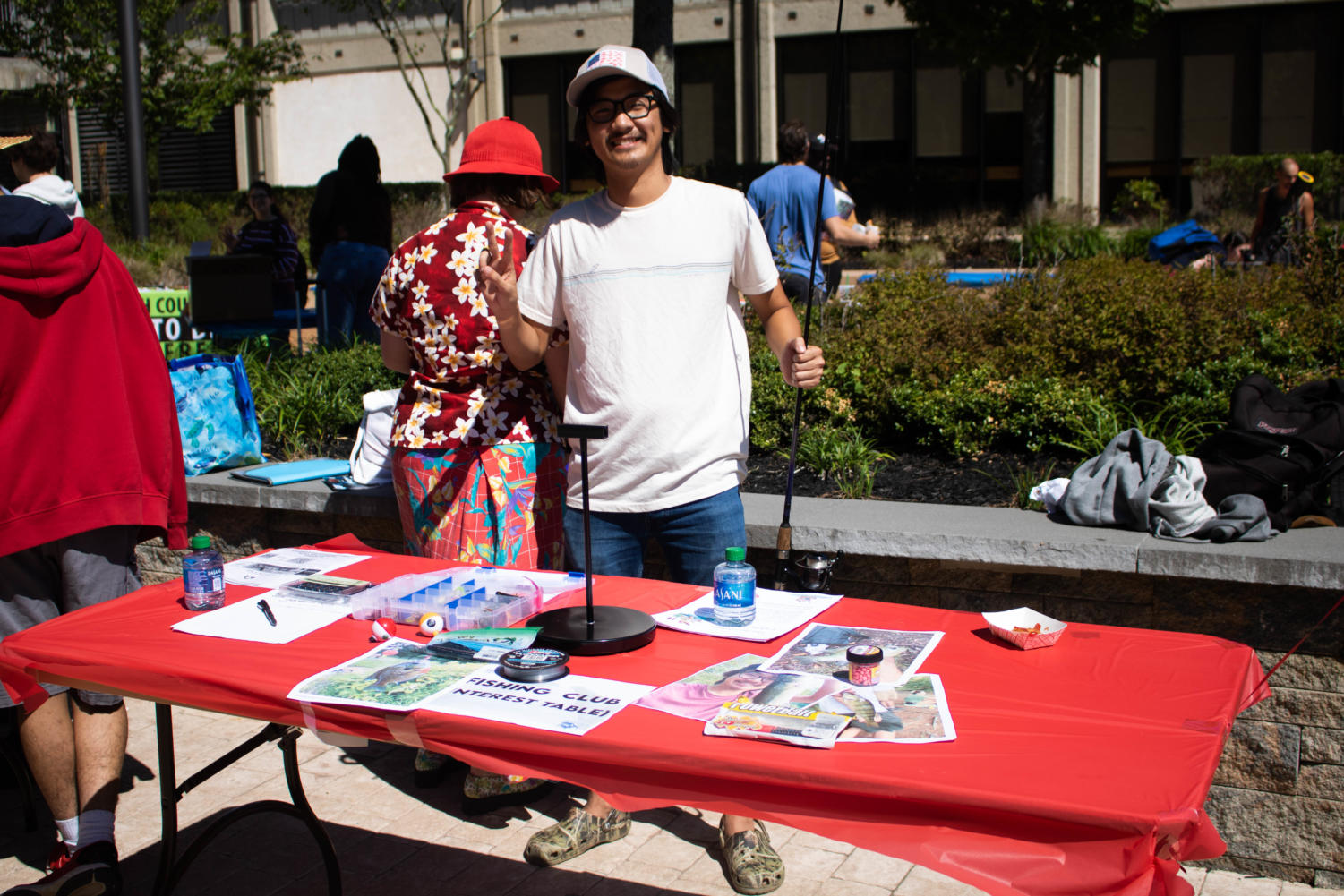 Business major Wes Hanson, 23, works to publicize the new fishing club.
"I'm here to have fun, obviously," said Harold Sleavin, a first-year student at Brookdale. "But I'm also trying to meet some new people as well so that I could branch out my relations, whether it's still in New Jersey or outside of New Jersey."
The fair took place during college hour, held 11:30 a.m. to 1:30 p.m. Tuesdays and Thursdays, when traditionally classes are not held to give students an opportunity to participate in college life.
"It's good to network, and get to know other people," said Kevin Hosbach, a first-year student at Brookdale. "I feel like that's what a lot of college is. It's about networking and meeting new people from all different backgrounds and experiencing different things."
The fair also gave clubs and student services a chance to advertise and showcase what they do, their goals, and what they have to offer. There were a lot of popular clubs that received many visitors and much interest, and there were some clubs that are new to Brookdale this year that are just getting started.
The Student Athlete Advisory Committee drew much interest from students who have strong ties to athletics.
"Within our club, we mostly go with our student-athletes," said Lianna Quezada, a Student Athlete Advisory Committee member.
"With our club, it'll really about helping our student-athletes to get involved more," Quezada said. "While participating in community service, the club brings everyone together, and it's a really good thing to put on your resume."