Bob Saget Mourned in Hollywood and at Brookdale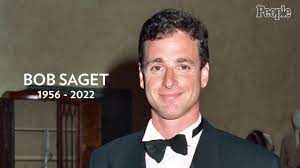 On Jan. 9, Hollywood lost one of its most beloved comedians, and many Brookdale students felt like they lost an uncle.
Loved by many, Bob Saget was a star that could never be forgotten. He was a man of many talents, and he impacted millions of lives. Many people have loved him as a result of the wholesome TV dad he played or been offended by him because of his much more raunchy standup comedy routines, which he shared around the globe.
While friends and costars like long-time friend, John Stamos, publicly mourn his death at the age of 65, Brookdale students continue to share their grief and discuss the impact the "Full House" star had on them, particularly while growing up.
"It felt like losing a family friend due to how I grew up watching him every day before school," said Amy Cieslik, a BCC photography major. "Bob Saget is one of the most iconic stars, and seeing the news of his death was dreadful to hear, due to his age."
Long-time friend John Stamos, wrote a heartfelt, yet raunchy eulogy for Saget's Jan. 14 funeral at Mt. Sinai Memorial Park in the Hollywood Hills. In the eulogy, which was published in the Los Angeles Times, Stamos speaks about feeling "shattered" and "worthless" upon hearing the news of Saget's death.
"I've spent days refusing to let him go. But now I'm starting to realize I don't have to. I don't have to say goodbye because he's never leaving my heart. And I will continue to talk to him every day and let him know what he means to me," Stamos wrote.
On screen, Stamos and Saget were close and lived in the same house. They were Jesse Thermapolis and Danny Tanner, respectively. Both characters have changed the lives of millions, but especially, Saget's character has impacted the lives of many.
"I love the life lessons his character shared on the show teaching the daughters. I grew up in not the best home life, so I really got educated from the topics they covered on the show like bullying or dating, and it had such an impact on me," Cieslik said.
The loss of Bob Saget is still hard to process for many people, but it's amazing to see how loved and appreciated he has been all his life.