Menstruation: Keeping the Information Flowing: Free Information Session Slated For March 29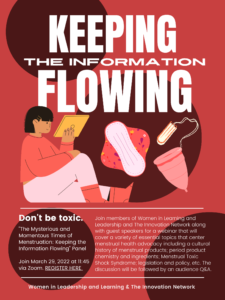 "Why are there no menstrual products available to female students and staff at Brookdale?" a student asked Jeanette Falotico, president of The Innovation Network(TIN).
TIN was meeting with new members and deciding what to focus on during the next semester.
"I really don't know," replied Falotico, "but we can work together to find out."
In addition to TIN, Falotico is a member of Women in Learning and Leadership (WILL). WILL members also expressed their disappointment that such a basic need was absent from the campus. At that moment, an initiative to remedy this problem was launched.
Menstrual products may be available for purchase at the Paddock Convenience Store, but with limited hours and location challenges, the products are often not accessible to students and staff who need them.
The lack of menstrual products on campus was recently brought to the Board of Trustees attention at the February meeting. The board appeared to be unaware that menstrual products were not available, with one member asking another trustee, "Don't we have machines for that in the restrooms?" (We do not.)
Brookdale President, Dr. David Stout, said that Dr. Charanne Smith, Director of Student Basic Needs had recently been given access to additional financial resources to help address the needs of students, such as the need for menstrual products.
Smith confirmed the allocation of additional resources to be set aside for menstrual products. We hope to have menstrual products available in the next few weeks, Smith said.
In the meantime, WILL joined forces with TIN and Phi Theta Kappa Honor Society (PTK,) to address this issue on their own. The clubs are working on an initiative to secure donations of menstrual products and place the products in easily accessible locations throughout the campus.
"Jeanette (Falotico) wanted WILL to partner with TIN and collaborate to promote awareness of menstrual health issues," said Roseanne Alvarez, Professor of English Studies and Adviser for WILL. "So, we then decided to expand it to include access to menstrual products."
Phi Theta Kappa also supported the initiative and is part of a group of students contacting companies that manufacture the products to obtain donations.
"Menstruating students just accept that there are no products available and don't give it a second thought until the moment when they are really in need of a product," said Dani Mannarino, PTK's Vice President of Service.
"By doing this project, I feel that it will shed light on the subject, and the college may look at it in a different way," added Mannarino.
The lack of menstrual products is just part of the problem, said Amanda Zelensky, President of WILL.
"In honor of Women's History Month, we're dedicating our efforts to women's health, with a focus on menstrual health awareness and advocacy," said Zelensky.
This advocacy will include a webinar hosted by WILL and TIN, "The Mysterious and Momentous Times of Menstruation: Keeping the Information Flowing," on March 29 starting at 11:45 a.m. The webinar will cover a variety of essential topics that center on menstrual health advocacy.
Guest speakers will include Dawn Massabni, from "Don't Shock Me," the foundation Massabni established to raise awareness about Menstrual Toxic Shock Syndrome (mTSS).
Maddy Massabni, a former Brookdale student, was 19-years-old when she died from mTSS. Her mother, Dawn Massabni, educates women, doctors and the public about the early warning signs and steps one can take to prevent this deadly syndrome. She also advocates for laws requiring doctors to be educated on the dangers of mTSS and to ask if patients are currently or have recently menstruated.
The history of menstrual products, the chemistry, and composition of ingredients in these products, along with legislation and policy will also be discussed. The panel discussion will be followed by an audience Q & A.
WILL and TIN plan to continue their advocacy through posters educating students and staff about MTSS. These posters will be placed in women's restrooms throughout the campus
For more information about the Menstruation Webinar:
https://brookdalecc.zoom.us/webinar/register/WN_Y4cZixF_SxuTS6ogqizNNA
For information about the Don't Shock Me foundation:
https://www.dontshockme.org/