With One Slap: Fresh Prince Went From Hero To Zero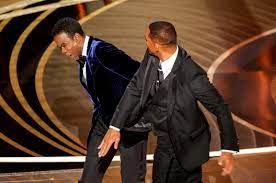 Midway through the 2022 Academy Awards ceremony Will Smith walked down the aisle of Hollywood's Dolby Theatre and onto the stage where he angrily slapped Chris Rock's face. For many, who initially though it was part of a skit or pre-arranged routine, the seriousness of the act did not register.
But when Smith went back to his seat and twice yelled "Keep my wife's name out of your f–king mouth" at a stunned Rock who was still on the stage, the disbelief turned to shock. Did Smith just assault a comedian on live television because he didn't like a joke Rock told? Social media reactions ranged from was Smith drunk to has he lost his mind? Comedians are known for sarcastic, caustic and often insulting remarks. Rock did not retaliate, and Smith just looked like a bully. What did Rock say to initiate this violent response?
"Jada, I love you, 'G.I. Jane 2,' can't wait to see it," was what Rock said. The comment referenced a movie from 1997, G.I. Jane, where actress Demi Moore plays a female soldier with a mostly shaved head, who was entering the armed services.
Jada Pinkett Smith, Will's wife, has alopecia, or hair loss. Her reaction to the joke was an eye roll. Apparently, Rock appears to have thought Jada was just sporting a new shaved-look hair style for a role or personal choice. He's not the only one who thought so.
In a recent interview with Page Six magazine, Enzo Angileri — who styled Demi Moore's buzzcut in the 1997 flick, was unaware that Pinkett Smith has alopecia, and thought the comment was "cute" and "benevolent." To him, Pinkett Smith's eyeroll was confusing. Demi Moore is a gorgeous actress, and the comparison was not derogatory.
"I thought Pinkett Smith looked amazing, so regal," the Italian-born hair stylist commented. "I thought it was a beauty choice … I have never seen her look more beautiful."
What was surprising is that initially, Will Smith laughed at the joke. Then when Pinkett Smith rolled her eyes, Smith suddenly decided to storm the stage and assault Rock. In front of millions of viewers.
But things got more complicated as the night went on. Rather than being escorted out of the venue, he not only remained in place, but then received the Academy Award for his performance in "King Richard." In a barely coherent acceptance speech, a crying Smith rambled on about how his role in real life was like the role he played in the movie, to protect his family and then added how he was fulfilling god's mission of spreading love.
And then he got a standing ovation from all of those in attendance.
If he were in school, he would have been suspended. If he were a police officer, he would have been disciplined or fired. In fact, anyone who chooses to physically assault another person simply because one doesn't like what that person says would be arrested.
And then his son, Jaden Smith, follows up with a post on Instagram saying, "And that's how we do it!" apparently bragging about and glorifying his father's assault. How sad that this young rapper now thinks this is the way to respond to those with whom you disagree.
This is toxic masculinity at its worst. Women don't need men who can't control themselves, justifying their violent behavior to others in the name of "protecting or defending women." He made it all about him, the valiant protector.
No thanks, Will, you went from hero to zero in one minute.