Gold Star Awards: A Night Filled With Surprises
April 27 was a special night for many Brookdale students. It was filled with dance, good food and good times with students, faculty, administrators and staff who all have one thing in common: all are part of the clubs that make Brookdale such a vibrant active community.
Held at the Shadowbrook at Shrewsbury, the event started at 6 p.m. with a buffet followed by a much-anticipated award ceremony. "The food is really good. I am excited for this event because it's my last one here at Brookdale," said psychology student Emily Maxim. "I needed to have something to remember it by."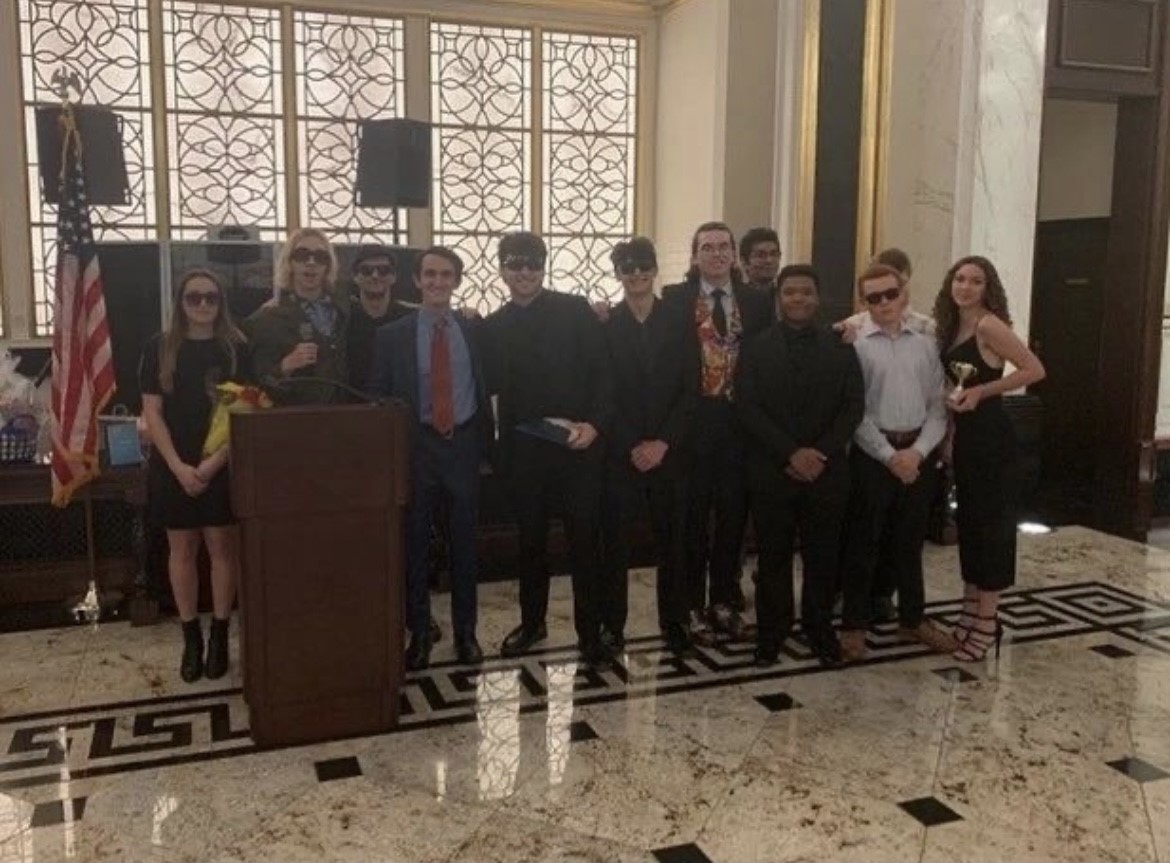 "This is the first gala event Brookdale has been able to organize since the pandemic," said ErinMarie Tierney, Assistant Director of Student Life and Activities as she welcomed everyone.
Student Life Board President Dominic Sama gave a short speech thanking students for their hard work, and noting that all the students receiving awards earned them with their hard work.
As the awards were presented, student after student became emotional as they came before their peers and accepted their honor. Students Joie Bauman and Maxim were among those who cried while receiving their Gold Star Award.
When student Sam Swanson was announced Best Club Leader for the Adventure Bound club, his clubmates pretended to be his security guards as he accepted, prompting everyone in the room to laugh and applaud.
Additional top Gold Star awards were presented to Women in Learning & Leadership (WILL) for Best Club; the Epicurean Club for Community Service; Bouchra El Charabaty for Most Active Club Member for the International Student Association; and Dr. Brian Oland, Best Club Adviser, for Adventure Bound.
Programs that were recognized were: The Mysterious and Momentous Times of Menstruation: Keeping the Information Flowing – Women in Learning & Leadership (WILL,) and The Innovation Network (TIN) for Most Successful On-Campus Event; and for Most Successful Virtual Events two programs were named, the Stigma Free Series presented by the Psychology and Human Services Club; and From Building a Garden to Building a Community presented by Jeanette Falotico (TIN,) Isabel Shaw (TIN,) Yaritza Ortega (Dreamers +,) Bouchra El Charabaty (ISA,) and Jean Guerdy Paul (ISA) as part of Civility Week.
Among those presented with General Gold Stars were: Amanda Zelevansky, Anjeli Santillan, Dr. Ashley Zampogna-Krug, Jeanette Falotico, Belinda Asamoah, Donna Battistoni, Julio Santiago-Reyes, Liana Bluzer and Taiphane Orange.
Basketball coach Paul Cizek and cheerleading squad coach Katrina Thornton also complimented and mentioned top student athletes, Ronn Flood and Joie Bauman, who received a goodie bag along with their Gold Star awards.
The end of the gala awards was filled with fun and laughter, as Tierney announced that there was going to be time to dance. The students ran to the center of the dance floor and danced till 11 p.m. The room was suddenly filled with cheers and students screaming with happiness, as the DJ played music.
Students cheered on one another as everyone did their own dance moves. At one point, this reporter even got involved in the action, randomly singing with SLB President Sama. As I sang, I felt like I was connected to all my friends and fellow students, and I felt honored to be participating.