'There Are A Lot Of Reasons For A College Kid To Be Stressed'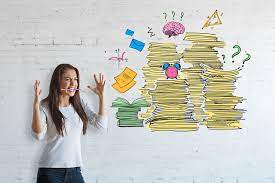 Well, we're almost there folks. The semester is nearing its end. Soon, students can breathe and enjoy the simple things in life again.
It's no secret that college is hard. There are challenges that no one really prepares you for and so many new experiences. With piles of schoolwork, life itself, and working to pay for that schoolwork, it can get extremely overwhelming.
After spring break, things start to slowly go downhill for some students. It starts with procrastination and keeps snowballing until it's week 12 of the semester and you're turning in assignments from week 10.
"I'm beating myself up right now," said Paige Thomas, a 19-year-old English major from Colts Neck. "I've been spending the last few weeks catching up on some missing stuff, and it's definitely stressing me out."
When it comes down to the last few weeks of school, students tend to be a little more stressed out than usual. Whether that's because they're catching up on missing work or studying for their last finals, there are a lot of reasons for a college kid to be stressed during the last few weeks of the semester.
However, there are things we can all do to make these last few weeks less stressful. First things first, you need to give yourself a break. If you've been staring at your books or computer screen for more than two hours straight, blink a few times and go stretch out your legs.
Taking a walk around your neighborhood or even just sitting in the sunlight for a few minutes could help reset your mind. "I really cherish my little breaks," said Claudia Richards, a 19-year-old, psychology major from Long Branch. "Sometimes I set a timer and when the timer goes off that's when I get back to work. It helps a lot."
For some, even an environmental change can be helpful too. "Most of the time I start my work at home," said Riley Moore, an 18-year-old early childhood education major from Jackson. "I always end up in a little corner table at Starbucks though, and then, somehow, I find myself working ten times faster."