Did you know that right on the Brookdale Lincroft campus, downstairs in the ATEC building, there is a world-class live performance music program for young musicians? Neither did I.
What I discovered was a hidden gem, the Rockit Live Foundation, whose mission is to "develop, nurture, and inspire young musicians to reach their full artistic potential through live performance music education."
I recently visited Rockit's studio during a rehearsal on the Lincroft campus and was blown away by the quality of both the students and the professionalism of the teachers.
Six musicians formed the rehearsal band that day, three of them Brookdale students. They performed The Talking Heads classic, "Burning Down the House," with tight rhythms and soaring vocals. All of the musicians were amazing and for this piece, I'll focus on the Brookdale students.
Montana Gogan, 20, a music major from Hazlet, brought the song to life with her dynamic lead vocals. When asked about the Rockit Foundation, Gogan described the program as life changing.
"Rockit is a very special program. It builds confidence and everyone here is incredible. We've all just become one big family and I'm so grateful to have this opportunity to participate."
Meghan Tobin, 18, a criminal justice major from Tinton Falls, played tambourine and provided solid backup vocals, while Chris Wilson, 18, a communications media major from Ocean Township pulled it all together on his gleaming flying V black guitar.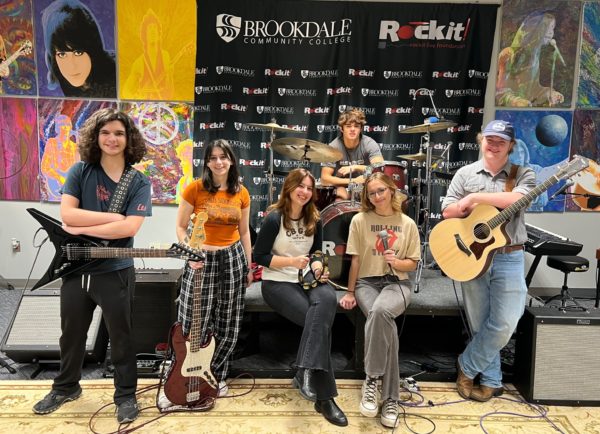 Rockit Live Foundation features top-of-the-line live performance equipment and skilled teachers. Some of these students had never met before rehearsal day, and their ability to successfully tackle a rhythmically challenging piece like "Burning Down the House" spoke to both the talented musicians themselves, and the skill level of the teachers.
When Gogan gushed that "Bruce is amazing!" she was referring to Brooklyn-born drummer Bruce Gallipani, who created Rockit in 2004. Gallipani is laser focused on the students, from working with the drummer to tackle challenging percussion to being sure each student is knowledgeable and comfortable with their role in a rock band.
"I wanted to take rock-n-roll out of the basement and prove that it offers the same positive reinforcements of social development and accomplishment as classical music, dance or drama for kids right here in New Jersey," Gallipani said.
After 11 years of working out of the Count Basie Theatre, in 2020 the Rockit Live Foundation and its live music education programs moved to Brookdale's Lincroft campus. Brookdale's President Dr. David Stout welcomed collaboration with the Rockit Live Foundation and said, "Bruce's staff of talented instructors, educators and board members have made the difference in so many lives in helping young people along the path toward making their aspirations a reality. The goal of Rockit – developing and inspiring young musicians to reach their potential – complement what we do at Brookdale every day across disciplines."
"The Rockit program involves more than musical technique; it is designed to instill a sense of collaboration, teamwork and confidence in young talented music students," said Gallipani, who also serves as the Foundation's Executive Director.
Rockit students have also collaborated and performed alongside music greats, with Rockit alumni going on to tour with Keith Urban, Jon Bon Jovi, Debbie Harry, Stevie Van Zandt and many more.
Rockit vocalist and alumna Jacquie Lee appeared on NBC TV's The Voice and is currently recording with Atlantic Records.
The Rockit Live Foundation, a 501(c)(3) nonprofit organization, endeavors to build character as well as talent, instilling confidence and team skills with an emphasis on community service. Their focus is outreach, music education, and scholarships.
Students first audition, then participate in a multiple-week group program to study music and learn a specific repertoire of songs, supplemented with individual instruction. Student musicians are then grouped to form separate bands who together, at the program's end, perform in a concert replete with high-production gear and lighting.
Scholarships are available. To apply for the Lou Pallo Scholarship (valued at $7,500): https://www.rockitacademy.org/gibson-lou-pallo-scholarship/
For more information about this fantastic musical opportunity, contact:
Bruce Gallipani
Founder/Executive Director
Rockit Live Foundation
Rockit Academy
Brookdale Community College
(732) 936-5400
www.rockitacademy.org